Roll over image to zoom in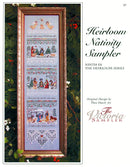 Description
"Sweet angels sing on Christmas night
Come shepherds see the wondrous sight.
Come wise men see the star above,
A Babe is born to bring us Love."
This elegant snowy Heirloom Sampler was inspired by many warm Christmas memories. When I was a child in Holland and then in Canada, the emphasis at Christmas was on the celebration of the Nativity story. Since we'd already received our presents from 'St. Nicholas' early in December, we were very focused on the coming of the baby Jesus! Usually, a week before Christmas, we decorated our new Christmas tree with sparkling ornaments and white candles. We would hang pine and fir boughs on the walls. But I wasn't tall enough to decorate the tree or walls, so in our family, my special joy and privilege was arranging the Creche. On our best side table, I would lay fluffy white cotton and some sparkles to make the snow shine. Then I added the barn with Mary and Joseph, the Shepherds and their sheep, the three Kings with a camel, and a gorgeous floating Angel hanging above. Finally, after much shifting of the figures so they were all arranged to perfection, I carefully and gently placed the little baby Jesus in his creche in the center. This Nativity scene of peace and love was the centerpiece of our house and it added such deep meaning to the scent of pine and candles, cookies baking, and the tinkle of bells and carol singing. For me, Christmas was the most magical hopeful time of the year. I hope that this sampler will bring that peace and beauty to you as you stitch this sampler with all its rich emotional imagery of the story of the First Christmas! - Thea
Design area: 329h x 72w (23.5" high x 5.1" wide)
Models: 28ct Cashel Linen - Smokey Pearl 
Cut fabric: 30" high x 11" wide
Suggested Materials
Gloriana silk #135 "Bellagio" - multi blue, green, cherry, gold - 2 yards
Gloriana silk #117 Elizabethan Green" - olive greens dk - 3 yards
Kreinik Mori #0553 - blue lt - 1 yards
Kreinik Mori #7014 - tan - 4 yards
Needlepoint Inc. #0143 - rose dk - 1.5 yards
Needlepoint Inc. #0304 - rust brown - 1 yards
Needlepoint Inc. #0925 - grey blue dk - 2.5 yards
Needlepoint Inc. #0966 - grey green dk - 2 yards
Gentle Art Sampler Threads "Sable" - multi browns - 4 yards
Kreinik Mori #7086 - golden yellow med - .5 yards
Kreinik Mori #6126 - purple - 1 yards
Access Au ver a Soie #1835 - grass green - 1 yards
Access Au ver a Soie #4624 - red - 1 yards
Access Au ver a Soie #creme - cream - 1 yards
Access Au ver a Soie #noir - black - 1 yards
Kreinik #4 Braid #002HL - metallic gold - 8 yards
Kreinik Mori #0103 - flesh - 1.5 yards
Kreinik Mori #0523 - grey lt - 1 yards
Kreinik Mori #0724 - yellow lt - 1.5 yards
Kreinik Mori #7087 - golden yellow dk - 2 yards
Needlepoint Inc. #0126 - brick red dk - 1 yards
Needlepoint Inc. #0642 - green - 2 yards
Needelpoint Inc. #0923 - grey blue med - 1 yards
Mill Hill petite bead #40557 - gold
SJ Designs petite bead #1818 - clear silver
SJ Designs petite bead #18114 - bronze iris
SJ Designs 2mm pearl beads - white
Access Mother of Pearl Star beads 
Mill Hill Treasure #12093 - red gold heart 
Star charm - gold 
Kreinik Mori #8000 - white - 16 yards
Zweigart 28ct Cashel Linen - Smoky Pearl 
DMC #12 Perle Cotton - white
DMC #8 Perle Cotton - white
#24 Tapestry Needle
#10 short Beading Needle
Stitches used in this Sampler:
Cross Stitch
Backstitch
Straight Stitch
Smyrna Cross Stitch
Satin Stitch
French Knots
Ray Stitch
Broad Cross Stitch
Partial Diamond Eyelet
Scotch Stitch
Star Stitch
Algerian Eyelet
Interlocking Cross Stitch
Triple Rice Stitch
Partial Rhodes Stitch
Plait Stitch
Modified Queen Stitch Heart
Modified Smyrna Cross Stitch
Kloster Blocks
Divided Wrapped Bars
Woven Bars
Dove's Eyes
Partial Greek Cross
Beadwork 

---
PDF Pattern Purchase and Download Instructions
Copyright Reminder: As a quick reminder, all of our PDF patterns are copyright protected and – as with all our patterns – are not permitted to be copied or distributed. We appreciate you sharing links with your friends rather than sharing the actual PDFs :) Thank you!
Payment & Security
Your payment information is processed securely. We do not store credit card details nor have access to your credit card information.