Roll over image to zoom in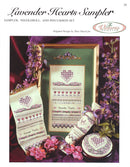 Description
A SAMPLER, NEEDLEROL AND PINCUSHION SET! From the moment I started this elegant silk thread sampler I loved it! The colour Lavender is a favorite of mine, and I'd always liked the idea of designing a sampler purely around one colour. The delicate Hardanger heart and the flowers at the top of the sampler were done in honour of a friend's wedding, and the rest just flowed from there. There are three drawn thread sections which are embellished with the herringbone, foursided, and honeycomb pulled stitches. You'll find some petite light blue sparkle beads to enhance the lavender flowers, some Cape Amethyst heart beads, and also some lilac pearls to draw attention to the widest drawn thread section. The blue-green contrasts well with the Lavender shades. Finally, all the beautiful colours come together in the Bargello band which anchors the bottom of the sampler. I hope you enjoy stitching with these colours as much as I did!!
LARGE SAMPLER

Design area: 131h x 64w (8.3" h x 4" w)
Model: 32ct Belfast Linen - Platinum
(Cut fabric: 15" h X 10" w)

NEEDLEROLL:

Design area: 59h x 50w (3.7" h x 3.1" w)
Model: 32ct Belfast Linen - Platinum
(Cut fabric: 12" h X 8" w)

PINCUSHION:

Design area: 58h x 58w (3.6" h x 3.6" w) for round design
Model: 32ct Belfast Linen - Platinum
(Cut fabric: 8" h X 8" w)

Suggested Materials
Kreinik Silk Mori #6124 - antique mauve med
Kreinik Silk Mori #0634 - antique mauve dark
Kreinik Silk Mori #0643 - antique rose very light
Au Ver a Soie #1745 - teal green
Au Ver a Soie #1741 platinum
Au Ver A Soie #3426 - deep green
Soie Perlee #Crème - cream
SJ Designs Petite Beads #1814 - blue
SJ Designs 2mm pearl beads - lilac
Soie Perlee #346 - lilac
Au ver a Soie #1741 - platinum
Kreinik #4 Braid #023 - lilac
Thread Gatherer SNC #091 - mulberry
Caron Waterlilies #150 - flagstone
2 Access Commodities Amethyst Heart Beads - lilac
YLI 7 mm silk ribbon #178 lilac
32ct Belfast Linen platinum
#24-22 Tapestry Needles
#10 short Beading needle
Stitches used in this Sampler:

Cross Stitch
Backstitch
Smyrna Cross
Herringbone
Drawn Thread
Rhodes Hearts
Diamond Eyes
Satin Stitches
Half Rhodes
Upright Cross
Plait Stitch
Foursided Hemstitch
Queen Stitch
Herringbone Hemstitch
Knit Stitch
Rice Stitch
Scotch Stitch
Honeycomb Hemstitch
Half-Cross
Bargello
Four Sided Stitch
Kloster Blocks
Woven Bars
Doves Eye
Attaching beads
---
PDF Pattern Purchase and Download Instructions
Copyright Reminder: As a quick reminder, all of our PDF patterns are copyright protected and – as with all our patterns – are not permitted to be copied or distributed. We appreciate you sharing links with your friends rather than sharing the actual PDFs :) Thank you!
Payment & Security
Your payment information is processed securely. We do not store credit card details nor have access to your credit card information.