Roll over image to zoom in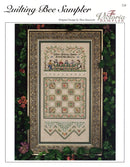 Description
"Where quilters gather.... friendships blossom"  - This beautiful sampler brings Quilting and Stitching together in a way that touches your heart. The top shows a scene familiar to most quilters, a group of friends working on a quilt together. Chatting and telling each other their stories, creating a quilt brings people together in so many magical ways. Regular meetings of a quilting group and the camaraderie of stitching are emotional 'ties that bind' when we work with our needles. The symbolic branches overhead, give the feeling of shelter and safety. Below the scene is a lovely line of lace, embellished with bugle beads, and right below that is a wonderful quilt of specialty stitches. The quilt is similar to the one worked on in the scene at the top of the sampler, and has the same colours. I've created the impression of some typical colourful quilt blocks put together with some special whitework blocks, and bound the entire quilt with a gorgeous floral garland band. What a beautiful quilt... I almost wish I had one on my bed! At the bottom of the sampler you can see a band of Hardanger with beautiful woven patterns, and a lovely band of flowers. Other special stitches in this sampler are Four Sided stitches, various Eyelet Stitches, Plait Stitches, Queen Stitches, Three Sided Eyelets, Ray Stitches, and Rhodes Stitches. You can choose to frame the top scene or to create a lovely pillow as shown here and on the back cover. The 25 squares are a wonderful challenge, but not too difficult for most stitchers. Enjoy stitching this sampler for yourself or your quilting friends! - Thea
Design Area: 100w x 226h (7" wide x 16" high)
Model: 28ct Cashel Linen - Raw Linen:
Cut fabric: 13" wide x 22" high)
Suggested Materials
Access Soie Perlee #550 - grey green
Gloriana #128 "Cherry Tart" - pinks
Gloriana #087 "Forest" - greens
Gentle Art Simply Wool "Maple Syrup" - browns
Kreinik Mori #4216 - olive green dk
Kreinik Mori #5055 - blue
Kreinik Mori #6124 - lavender
Kreinik Mori #8050 - black
Needlepoint Inc. #0763 - golden tan
Needlepoint Inc. #0981 - tan lt
DMC #8 Perle Cotton #644 - beige grey med
Caron Waterlilies #139 'Kelp" - multi brown, green
Needlepoint Inc. #0141 - flesh
Needlepoint Inc. #0143 - rose
Needlepoint Inc. #0184 - brown
Needlepoint Inc. #0322 - grey blue
Needelpoint Inc. #0641 - green lt
Needlepoint Inc. #0694 - yellow
Needlepoint Inc. #0967 - grey brown dk
Needlepoint Inc. #0991 - white
Mill Hill small bugle beads #72045 - green
Mill Hill petite beads - #40479 - white
SJ Designs seed beads - #11114 - bronze iris
SJ Designs 2mm pearl beads - white
Zweigart 28ct Cashel Linen - Raw Linen
DMC #8 Perle Cotton (thick twist) - white
DMC #12 Perle Cotton (thin twist) - white
#24 tapestry needle
#10 short beading needle
Stitches used in this Sampler:
Cross Stitch
Back Stitch

Lazy Daisy Stitch
French Knot
Cross Stitch over ONE fabric thread
Rhodes Heart
Satin Stitch Triangles
Apple Blossom Flower
Blanket Stitch
Plait Stitch
Rice Stitch
Ray Stitch
Partial Diamond Eyelet
Diamond Eyelet
Satin Stitch Pins
Satin Stitch Flower
Modified Star Stitch
Modified Ray Stitch
Algerian Eyelet
Four-Sided Stitch
Satin Stitch Hearts
Smyrna Cross Stitch
Three Sided Eyelet
Flat Stitch
Queen Stitch
Rhodes Butterfly
Scotch Stitch
Kloster Blocks
Divided Wrapped Bars
Dove's Eye
Woven Bars
Partial Greek Cross
---
PDF Pattern Purchase and Download Instructions
Copyright Reminder: As a quick reminder, all of our PDF patterns are copyright protected and – as with all our patterns – are not permitted to be copied or distributed. We appreciate you sharing links with your friends rather than sharing the actual PDFs :) Thank you!
Payment & Security
Your payment information is processed securely. We do not store credit card details nor have access to your credit card information.