Roll over image to zoom in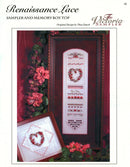 Description
There is a rich air of Renaissance romance in the specially dyed deep burgundy and copper overdyed silk ribbon, garnet and lavender silk flosses, shimmering beads, and White work lace. Truly a lovely gift for all loving occasions! A delight of textures and techniques for everyone, the Sampler or Box Top are ideal for the intermediate specialty stitcher! You will work Bargello, Rhodes Hearts, Triple Rice Stitches, Herringbone, Double Running, Plait Stitches, and Four Sided Stitches. Basic Hardanger techniques are shown clearly, like Kloster Blocks, Algerian Eyes, Weaving, Dove's Eyes; and also techniques like Honeycomb Pulled Filling Stitches and Double Herringbone Drawn Thread work. See for yourself how easy it is to create beautiful Bullion Stitches, Colonial Knots, Lazy Daisy Stitches and bead-work to build the main Floral Heart step by step. The Box Top design was mounted in the 5" opening of a square box from Sudberry following their included directions. The mahogany coloured wood really compliments the deep colours of the heart! The box can be used for mementos of the past, or jewelry, or your stitching supplies. Here are two romantic designs suitable for many occasions: Mother's Day, Engagements, Weddings, Anniversaries, Graduations, Valentine's Day Gifts or more. Stitch them with love in your heart... - Thea

Design Area for Sampler: 38w x 161h (2.7" wide x 11.5" high)
Model: 28ct Cashel Linen - Antique White 
Cut fabric: 9" X 18" for framing

Design Area for Box Top: 70w x 70h (4.4" wide x 4.4" high)
Model: 32ct Antique White Belfast Linen:
Cut fabric: 10" X 10" for framing or 7" x 7" for box top

Suggested Materials
Island Fibers 4mm silk ribbon Renaissance #03424
Thread Gatherer Silk N Colors - Nan's Mulberry SNC 040
Kreinik Mori #8000 - white
Kreinik Mori #1119 - garnet
Kreinik Mori #4076 - dark dusty green
Kreinik Mori #6126 - dark dusty lavender
Kreinik #4 braid - #002 gold
Mill Hill Glass Beads #00553 - mulberry
28ct Cashel Linen or 32ct Belfast Linen - Antique White 
DMC Perle Cotton #12 white
DMC Perle Cotton #8 white
#24 tapestry needle
#10 short beading needle
Stitches used in this Sampler:

Cross Stitch
Backstitch
Bullion Knot Roses
Colonial Knots
Herringbone Stitch
Pins and Honeycomb Stitch
Triple Rice Stitch
Plait Stitch
Satin Stitches
Double Running
Kloster Blocks
Woven Bars
Dove's Eyes
Beadwork
Lazy Daisy
Partial Greek Crosses
Rhodes Hearts
Four Sided Stitches
Bargello
---
PDF Pattern Purchase and Download Instructions
Copyright Reminder: As a quick reminder, all of our PDF patterns are copyright protected and – as with all our patterns – are not permitted to be copied or distributed. We appreciate you sharing links with your friends rather than sharing the actual PDFs :) Thank you!
Payment & Security
Your payment information is processed securely. We do not store credit card details nor have access to your credit card information.