Roll over image to zoom in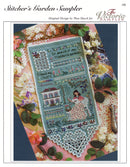 Description
"In search of my Mother's garden... I found my own." This lovely and meaningful sentiment seems like the perfect addition to this Stitcher's Garden Sampler. It has layers of meaning about growing up... finding ourselves as we often find ourselves doing as our mothers do. As we stitch, we find our own place... our 'garden'. To encourage an atmosphere of stitching, this garden has so many lovely plants and fences.. a willow tree to shade the Victorian House, cute little frogs to remind you to stitch carefully, and sweet flowers and borders made of various specialty stitches! Designed on Light Amsterdam Blue Linen, the sampler shows off the gorgeous colours of the overdyed Silks, blended colours of silk flosses, and shimmering beads and pearls, all adding to the soft spring and summer feeling. The upper left area has a 'window' of basic Hardanger, Silk Ribbon flowers and Scotch Stitches. At the upper right there is an area with some lovely Drawn Thread, Pulled Thread and floral bands. On the lower right, picture yourself stitching in your fantasy garden (change your hair colour if you wish!) Finally, the bottom of the bellpull is finished with a Hardanger heart including some beautiful filling stitches. To ease your way through finishing, we've used optional Blanket Stitches and a Nun's Stitched flap to wrap around your hardware! - Thea
Design Area: 70w x 160h (5" wide x 11.5" high)
Model: 28ct Cashel Linen "Light Amsterdam Blue"
Cut fabric: 11" wide X 18" high for framing 
Suggested Materials
Gloriana silk floss #066 "Highland Garden"
Access Au ver a Soie #1831 - yellow green lt
Access Au ver a Soie #3846 - grey brown dk
Access Au ver a Soie #4147 - pink vy lt
Kreinik Mori #6124 - lavender lt
Kreinik Mori #5055 - blue med
Kreinik Mori #4166 - blue green med
Gloriana 4mm silk ribbon #142 "Victorian Garden"
Kreinik Mori #0113 - peach med lt
Kreinik Mori #1094 - pink med
Kreinik Mori #0634 - lavender dk 
Kreinik Mori #4167 - green dk
Kreinik Mori #8000 - white
Needlepoint Inc. #0964 - grey brown med
SJ Designs seed bead #11059P - rainbow
SJ Designs 2mm pearl beads - white
Zweigart 28ct Cashel Linen - Light Amsterdam Blue 
DMC #8 Perle Cotton #blanc - white
DMC #12 Perle Cotton #blanc - white
#24 tapestry needle
#10 short beading needle
Stitches used in this Sampler:
Kloster Blocks
Wrapped Bars
Dove's Eyes
Japanese Ribbon Stitch
Back Stitch
Cross Stitch
Lazy Daisy Stitch
Herringbone Stitch
Honeycomb Hemstitch
Double Running Stitch
Scotch Stitch
Rick Rack Pulled Stitch
Plait Stitch

Fan Stitch
French Knot
Straight Stitch
Algerian Eyelet
Woven Bars
Blanket Stitch
Partial Greek Crosses
Nun's Stitch
---
PDF Pattern Purchase and Download Instructions
Copyright Reminder: As a quick reminder, all of our PDF patterns are copyright protected and – as with all our patterns – are not permitted to be copied or distributed. We appreciate you sharing links with your friends rather than sharing the actual PDFs :) Thank you!
Payment & Security
Your payment information is processed securely. We do not store credit card details nor have access to your credit card information.