Roll over image to zoom in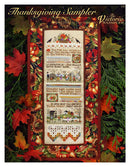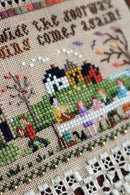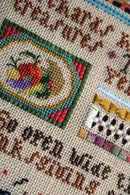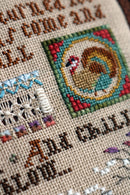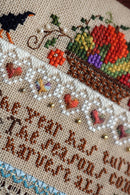 Description
"The year has turned its circle, The seasons come and go.  The Harvest all is gathered in, and chilly North winds blow... Orchards have shared their treasures. The fields their yellow grain.  So open wide the doorway... Thanksgiving comes again!" Gather with your loved ones this Thanksgiving to celebrate the season of gratitude. The tradition of giving thanks after the summer bounty takes place all over the world, but in North America, it is traced back to the 1621 celebration at the Plymouth Plantation, when the Pilgrims invited the local indigenous peoples to a harvest feast after a particularly successful growing season. Many people had starved the previous winter, but meanwhile, kind members of the local Wampanoag tribe taught the Pilgrims to grow corn, beans and squash, how to catch the local fish, and how to collect the seafood. These were all skills that were needed to survive in their new land. The original three-day feast apparently included goose, lobster, cod and deer, and the vegetables and berries they collected or grew. The Pilgrim Edward Winslow wrote about that now-famous meal, mentioning a wild turkey hunt that took place before the dinner, which may be where the idea of eating turkey came from. In this original sampler, you can see the beautiful basket of fruits and veggies at the top, then a scene showing the Pilgrims and Wampanoag tribe getting together, and finally a scene at the bottom of the sampler showing our modern Thanksgiving Day, boys playing football, and friends and family gathering around a groaning table. There are a number of specialty stitches to enjoy stitching. The Hardanger panel at the bottom is a perfect balance with the top basket and crows. I've always found that a sense of gratitude is essential to happiness and Thanksgiving is a perfect time every year to celebrate this together. - Thea
Design area: 64w x 198h (4.6" wide x 14.1" high)
Model: 28ct Cashel Linen - Clay: 
Cut fabric: 11" wide x 20" high for framing
Suggested Materials
Gloriana silk #053 "Granny Smith" - greens lt

Caron Watercolors #010 "Fiesta" - multi

Kreinik Mori #0103 - flesh

Kreinik Mori #2016 - bright gold

Kreinik Mori #4166 - blue green med lt

Kreinik Mori #7024 - tan

Kreinik Mori #8050 - black

Needlepoint Inc. #548 - green dk

Needlepoint Inc. #721 - terra cotta

Gloriana silk #206 "Olivine" - greens med

Kreinik #4 Braid #002 metallic - gold

Kreinik Mori #3017 - red

Kreinik Mori #8053 - grey lt

Needlepoint Inc. #476 - nutmeg

Needlepoint Inc. #564 - aqua med

Needlepoint Inc. #754 - rose

Needlepoint Inc. #771 - yellow

Needlepoint Inc. #955 - brown dk

Gloriana silk #112 "Harvest Grape" - multi

Kreinik Mori #2066 - orange

Kreinik Mori #7087 - tarnish gold

Kreinik Mori #7124 - cream

Needlepoint Inc. #455 - purple

Needlepoint Inc. #766 - golden brown

Needlepoint Inc. #811 - blue lt

Needlepoint Inc. #964 - grey brown

Mill Hill seed bead #00123 - cream

MIll Hill seed bead #00557 - gold

SJ Designs seed bead #11114 - bronze iris

   

Zweigart 28ct Cashel Linen - Clay

DMC #8 Perle Cotton #712 - cream (thick twist)

DMC #12 Perle Cotton #712 - cream (thin twist)

#24 Tapestry needle

#26 Tapestry needle

#10 short Beading needle
Stitches used in this Sampler:
Cross Stitch

Smyrna Cross

Back Stitch

Satin Stitch Triangles

Cross Stitch over ONE fabric thread

Rhodes Heart

Modified Smyrna Triple Rice Stitch

Algerian Eyelet

French Knot

Honeycomb Hemstitch

Lazy Daisy Stitch

Arrowhead Stitch

Knit Stitch

Nite Knotters Stitch

Spanish Stitch

Sheaf Stitch

Beaded Interlaced Hemstitch

Reversed Scotch Stitch

Herringbone Stitch

Kloster Blocks

Woven Bars with Doves Eyes

Wrapped Bars with Doves Eyes

Partial Greek Cross 
---
PDF Pattern Purchase and Download Instructions
Copyright Reminder: As a quick reminder, all of our PDF patterns are copyright protected and – as with all our patterns – are not permitted to be copied or distributed. We appreciate you sharing links here with your friends rather than sharing the actual PDFs :) Thank you!
Payment & Security
Your payment information is processed securely. We do not store credit card details nor have access to your credit card information.