Roll over image to zoom in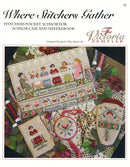 Description
STITCHERS POCKET, SCISSORS FOB, SCISSORS CASE AND NEEDLEBOOK The "Where Stitchers Gather" Needlepocket conveys that sense of loving camaraderie that steals over us as we stitch together, whether in person, or online. We truly are drawn together in friendship as we stitch! It is stitched on raw linen cashel to suggest the antique needlework 'smalls' reminiscent of earlier times. I really enjoyed including all the different elements of our stitching retreats, including a table of stitchers, two swans in honour of the "Society of Women Addicted to Needlework", and two wee frogs to keep those pesky stitching errors at bay! There are 14 different specialty stitches that make up each of the pink flower motifs within the bands. Also, you will find many additional specialty stitches and tidbits on both the front and back of this pocket, including a lovely Hardanger heart with a gold scissors charm, and even some drawn thread work to have fun with! There is an area at the lower back of the pocket to include your name and date or other writing, and you can even accommodate a longer name than shown, if necessary! You will enjoy learning all sorts of great specialty stitch techniques, as this project is meant for the dedicated stitcher. Be prepared to learn some new techniques, as well as the fun stitching of the many Cross Stitched areas, so you can relax and stitch together without losing your concentration. The accompanying needlebook, scissors case and fob will also surely capture your hearts. I hope you take this set of 'smalls' along on many future stitching retreats. - Thea :)
Pocket
Design Area: 102w x 198h (7.3" wide x 14.1" high)
Model: 28ct Cashel Linen - Raw Linen:
Cut fabric: 11 "w x 18"h for pocket finishing
Scissors Case
Design Area: 36w x 58h (2.6" wide x 3.9" high)
Model: 28ct Cashel Linen - Raw Linen:
Cut fabric: 5.5 " wide x 7" high for scissor case front
Needlebook
Design Area: 68w x 51h (4.85" wide x 3.6" high)
Model: 28ct Cashel Linen - Raw Linen:
Cut fabric: 7.5 " x 6" for needlebook
Scissors Fob
Design Area: 22w x 23h (1.6" wide x 1.65" high)
Model: 28ct Cashel Linen - Raw Linen:
Cut fabric: 5 " x 5" for scissor fob 
Suggested Materials
Access Soie Perlee #creme - cream (twisted thread)
Caron Waterlilies #150 "Flagstone" - multi blue greys
Gloriana silk #091 "Raspberry Parfait" - multi rose
Kreinik Mori #7024 - tan lt (sub for GAST "Wood Smoke" - multi tan lt)
Access Au ver a Soie #3043 - pink ultra lt
Access Au ver a Soie #blanc - white
Access Au ver a Soie #noir - black
Kreinik Mori #1092 - pink med
Kreinik Mori #7087 - golden tan
Kreinik Mori #4076 - grey green med
Kreinik #4 Braid #713 - pink metallic
Gloriana silk #116 "Olive Grove" - multi olive greens
Weeks #2284 "Madison Rose" - multi pink lt (sub for GAST "Highland Heather") 
GA Sampler Threads "Maple Syrup" - multi brown dk
Kreinik Mori #1205 - rose dk
Kreinik Mori #4212 - olive green lt
Kreinik #4 Braid #102 - vatican gold metallic
Appleton Crewel Wool #991 - white
Needlepoint Inc. #203 - flesh med
Needlepoint Inc. #322 - grey blue med
YLI 4mm silk ribbon #030 - taupe
SJ Designs petite beads #1859 - silver
SJ Designs petite beads #1856 - pink
SJ Designs seed beads #1153 - white
SJ Designs seed beads #11059P - silver plated rainbow
Charm - scissor
Zweigart - 28ct Cashel Linen - Raw Linen
DMC #12 Perle Cotton - white
#24 tapestry needle
#10 short beading needle
#7 straw/milliners needle
Stitches used in this Sampler:
Cross Stitch
Back Stitch
Cross Stitch over ONE fabric thread
Eyelet Flower 

Broad Cross Stitch
Satin Stitch Rose
Detached Chain Stith
Apple Blossom Flower
Spider Web Flower
Bullion Knot
Colonial Knot
French Knot
Rhodes Circle
Stem Stitch Rose
Hemstitch
Wrapped Herringbone 
Kloster Blocks
Partial Greek Cross
Woven Bars
Dove's Eye
Tied Cross Stitch
Alicia's Lace
French Stitch
Partial Queen Stitch
Rhodes Heart
Whipped Spider Web Rose
Ribbed Spider Web Rose
Diagonal Satin Stitch
---
PDF Pattern Purchase and Download Instructions
Copyright Reminder: As a quick reminder, all of our PDF patterns are copyright protected and – as with all our patterns – are not permitted to be copied or distributed. We appreciate you sharing links here with your friends rather than sharing the actual PDFs :) Thank you!
Payment & Security
Your payment information is processed securely. We do not store credit card details nor have access to your credit card information.