Roll over image to zoom in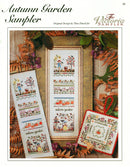 Description
Autumn is a time of abundance, gratitude and warm colours, and this wee Autumn Garden sampler will nourish these things in us until the first green shoots of spring emerge. Stitched using silk floss, overdyed silk and cotton flosses, on earthy linen, this harvest garden sampler is a vibrant addition to the Victorian Garden series. As you walk into this garden at the bottom of the sampler, you'll find the lady of the house is busy raking the brightly coloured fallen leaves beside the backyard bird feeder. The crows are enjoying a feast of seeds and insects and the squirrels are busy putting away the acorns for winter. Further on you'll find a bountiful pumpkin patch by a stream, and the hens are pecking for insects among the mums . There is a band of acorns and oak leaves, to remind you of the end of summer. At the top of the garden, someone has placed a very friendly scarecrow in the fields, and he watches over his friends the crows as they enjoy the harvest of apples and sunflower seeds. This Learning Sampler is perfect for the beginning through intermediate specialty stitcher. You will practice some lovely specialty stitches such as Lazy Daisies, French Knots, Cross Stitch over one fabric thread, Partial Rhodes, Rick Rack Pulled, Herringbone Stitch, Ray, Plait, Foliage, Knit, Pulled Wave, and Sheaf Stitches. Take some time to stitch your way through this abundant Autumn Garden!! Thea

Design Area: 30w x 114h (2 .1" Wide x 8.2" High)
Model: 28ct Cashel Linen - Putty:
Cut fabric: 8" X 14" for framing
Suggested Materials

Gentle Art Sampler Threads - Burnt Orange - multi-oranges med bright
Gentle Art Sampler Threads - Sable - multi -browns med, grey and dk
Gentle Art Sampler Threads - Mulberry - multi -brick reds
Gloriana Silk #112 - Harvest Grape - multi-gold orange mauve green (medium)
Gloriana Silk #115 - Topiary - multi green red gold purple (dark)
Access Soie 100/3 #080 - beige (creamy very thin twisted silk)
Access Au ver a Soie #2532 - yellow
Needlepoint Inc. #0964 - grey med (brown taupe grey)
Kreinik Mori #0553 - blue med (medium antique blue colour)
Kreinik Mori #4215 - green med (medium olive colour)
Kreinik Mori #4216 - green dk (dark olive colour)
Kreinik Mori #6126 - mauve (very dark antique purple colour)
Kreinik Mori #7087 - golden tan (medium dark gold colour)
Kreinik Mori #7124 - cream
Kreinik Mori #8050 - black
Mill Hill Petite bead #40479 - white
28ct Cashel Linen - Putty
#24 tapestry needle
#10 short beading needle
Stitches used in this Sampler:

Cross Stitch
Backstitch
Cross Stitch over one fabric thread
Straight Stitch
Laisy Daisy Stitch
French Knot
Partial Rhodes Stitch
Rick Rack Pulled Stitch
Herringbone
Ray Stitch
Sheaf Stitch
Pulled Wave Stitch
Knit Stitch
Foliage Stitch
Four-Sided Stitch
Plait Stitch
Beadwork
---
PDF Pattern Purchase and Download Instructions
Copyright Reminder: As a quick reminder, all of our PDF patterns are copyright protected and – as with all our patterns – are not permitted to be copied or distributed. We appreciate you sharing links here with your friends rather than sharing the actual PDFs :) Thank you!
Payment & Security
Your payment information is processed securely. We do not store credit card details nor have access to your credit card information.