Roll over image to zoom in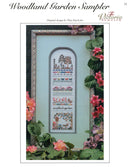 Description
Stitched with all silk threads, on confederate grey linen, this sampler was a joy to design from start to finish! Bunnies, birds, and squirrels play with the bees and butterflies in this delightful Woodland Garden. Stitched using silk floss, overdyed silks and overdyed cottons blended with soft gold metallic on Confederate Grey linen, this forest garden sampler is a colourful addition to the Victorian Garden series. You can enter this garden at the bottom of the sampler, through the shaded clearing under the pine trees, where the birds and the butterflies are encouraged to linger by the shade-loving perennials there. Walk through the woods along the softly scented path where wild violets carpet the forest floor, and see bunnies playing far-off in meadows. A little stream meanders and sparkles through the trees while dazzling butterflies dance in the air... In the distance, at the top of the sampler, a cheeky squirrel gathers pinecones and pecans for the colder days to come. This Learning Sampler is perfect for the beginning through intermediate specialty stitcher. You will practice an interesting Drawn Thread Band, a Pulled Thread Band, Satin Pulled Stitches, Lazy Daisy, Rhodes Butterfly Stitches, Ray Stitches, Scotch Stitches, Backstitching, Modified Rhodes Stitches, and Four Sided Pulled Stitch. Take some time to walk through this Woodland Garden yourself!
Design area: 30w X 114h (2.1" wide X 8.1" high)
Model: 28ct Confederate Grey Cashel Linen  
(Cut fabric: 8" wide X 14" high)
Suggested Materials

Kreinik #4 Braid #102 - vatican gold
Kreinik Mori #0325 - med salmon
Kreinik Mori #0644 - lavender lt
Kreinik Mori #1096 - burgundy (colonial knot)
Kreinik Mori #1096 - burgundy
Kreinik Mori #4077 - green very dark
Kreinik Mori #5055 - slate blue med dk
Kreinik Mori #6126 - lavender dk
Kreinik Mori #8055 - med grey
Access Au Ver a Soie #2511 - yellow
Access Au Ver a Soie #3443 - grey- brown dk
Access Au Ver a Soie #5384 - teal
Gentle Art Sampler Threads - peacock
Caron Collection "Waterlilies" #121 - evergreen
Caron Collection "Waterlilies" #168 - rainforest
Stitches used in this Sampler:

Cross Stitch
Backstitch
Lazy Daisy
Colonial Knots
Scotch Stitch
Pulled Pins or Satin Stitches
Rhodes Butterfly Stitches
Herringbone Hemstitch
Double Running
Algerian Eyelets
Partial Rhodes
Four Sided Stitches
Ray Stitches
Nun's Stitches
---
PDF Pattern Purchase and Download Instructions
Copyright Reminder: As a quick reminder, all of our PDF patterns are copyright protected and – as with all our patterns – are not permitted to be copied or distributed. We appreciate you sharing links here with your friends rather than sharing the actual PDFs :) Thank you!
Payment & Security
Your payment information is processed securely. We do not store credit card details nor have access to your credit card information.