Roll over image to zoom in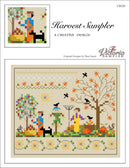 Description
Stitch this downloadable pattern in lovely Autumn colours. This design can be framed or made into a pin-pillow or boxtop.  All Creative Designs are meant as a creativity exercise for our website visitors. Now you have a way to use up those luscious leftover threads, beads, and other materials.
Look at the samples our stitchers dreamed up in our FB Chat group: .! 
Choose your own fall coloured threads and linen to begin to stitch this Harvest Sampler!  It's a good idea to bring out a few thread choices and lay them on your linen, to check if they look good. You will not want any of your threads to blend too easily into the colour and shade of your linen, so look for some contrast. TIP: It's easier to match your threads to the linen, rather than the linen to the threads. So pick your linen first, and then choose threads to see how they look on it. If that linen doesn't work, try another linen, and repeat the process!
Another important decision is how you are going to finish your project. If you are going to create a pocket, how are you going to sew it together? I've added a line all the way around the design, which you can use to give a 'margin' of 2 fabric threads on the sides and 4 fabric threads at the top and bottom of the design. You could Backstitch those lines and use it to sew a backing to the front, or you could ignore those lines and finish your piece just the way you want. You could also use the position of the line to create a lovely border to Cross Stitch around the outside of the design, to make your pocket a bit bigger. It's a fun time for all and the fun is in the creativity.
Come visit us on Facebook and share your progress in our friendly 
Victoria Sampler Chat Group
! We'd love to admire your choices and stitching.  -Thea
---
PDF Pattern Purchase and Download Instructions
Copyright Reminder: As a quick reminder, all of our PDF patterns are copyright protected and – as with all our patterns – are not permitted to be copied or distributed. We appreciate you sharing links here with your friends rather than sharing the actual PDFs :) Thank you!
Payment & Security
Your payment information is processed securely. We do not store credit card details nor have access to your credit card information.