Roll over image to zoom in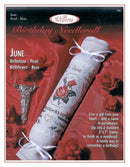 Description
"For You, With Love...Remember someone's birthday by stitching this little sampler. Featuring a Birthstone Heart stitched in sparkling metallic thread, a medallion and tiny garden showing the appropriate Birthflowers, this design is dedicated to all those special people who are born in June! The Pearl, Birthstone of June, is the queen of gems, pure and fair to look upon, and the emblem of modesty, chastity and purity. Pearls also symbolize a happy marriage and are very popular as a wedding gift from a groom to a bride. The Rose, the Birthflower for June, is one of the most loved flowers in the world. A"symbol of true love", it is considered a lucky gift for any woman. It was used in medieval times for medicinal purposes but now is grown for its ornamental beauty. Using the enclosed Alphabet and finishing directions, you can personalize this little sampler and finish it into a needleroll, or frame it using an easy to find 5" X 7" frame. I'm sure that the birthday recipient will truly appreciate this as a gift from your heart.
Design area: 75h x 56w (5.3" high x 4" wide)
Model: 28ct Quaker Cloth or Cashel Linen - Confederate Grey 
Cut fabric: 12" high X 7" wide
Suggested Materials
Zweigart 28ct Quaker Cloth or Cashel Linen - Confederate Grey

Kreinik #4 Braid #102 - vatican gold

DMC Floss - white

DMC Floss #500 - blue green vy dk

DMC Floss #501 - blue green dk

DMC Floss #502 - blue green med

DMC Floss #504 -blue green vy lt

DMC Floss #815 - garnet dk

DMC Floss #304 - xmas red med

DMC Floss #891 - carnation med

DMC Floss #3706 - carnation lt

DMC Floss #3713 - carnation vy lt

DMC #8 Perle Cotton - white

Kreinik Ombre 3200 - metallic pearl

1/8" Offray satin ribbon - white 

#24 tapestry needle
Stitches Used in this Sampler:

Cross Stitch
Back Stitch
Triple Herringbone Stitch

Rice Stitch
Rhodes Heart
Smyrna Cross Stitch
---
PDF Pattern Purchase and Download Instructions
Copyright Reminder: As a quick reminder, all of our PDF patterns are copyright protected and – as with all our patterns – are not permitted to be copied or distributed. We appreciate you sharing links here with your friends rather than sharing the actual PDFs :) Thank you!
Payment & Security
Your payment information is processed securely. We do not store credit card details nor have access to your credit card information.