Roll over image to zoom in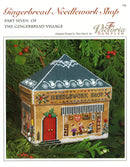 Description
Part 7 of the Gingerbread Village! It is stitched on Gingerbread colored linen and is dripping with white icing, and elegant roof details. I loved designing this building because I have fond memories of working in a needlework shop when I first started in the business. What fun it was to help my fellow stitchers find threads and patterns they liked! The best part was the classroom, and in this design you can see the classroom depicted right at the front of the shop. Richly decorated with Christmas buttons, this Gingerbread building is also a box! The roof is actually the lid to the box so you can take it off and find a large container for your needlework tools and scissors. Stitched with yummy overdyed silk flosses, Perle Cottons, sparkling beads delicious looking 'candy' buttons! Excellent finishing instructions and photos are included at the end of this leaflet. This year, place all six Christmas buildings on your mantle for the Holidays! You can also place them on your dining room table, or hall table to give you some extra Christmas cheer as you stitch your last minute ornaments. Look for more Gingerbread Village additions in future years! Wishing all of you a very happy Christmas, with enough stitching to last you till New Year! -Thea
Store Front and Back
Design area: 82w x 56h (5.9" wide x 4" high)
Model: 28ct Cashel Linen - 'Gingerbread'  
Cut 2 pieces of fabric: 9" wide x 7" high for finishing
Store Sides 1 & 2
Design area: 50w x 56h (3.6" wide x 4" high)
Model: 28ct

Cashel Linen - '

Gingerbread' 

Cut 2 pieces of fabric: 7" wide x 7" high for finishing
Store Roof Lip Front and Back
Design area: 84w x 14h (6" wide x 1" high)
Model:

28ct

 

Cashel Linen - '

Gingerbread'

Cut 2 pieces of fabric: 9" wide x 4" high for finishing
Store Roof Lip Side 1 & 2
Design area: 52w x 14h (3.7" wide x 1" high)
Model:

28ct

 

Cashel Linen - '

Gingerbread'

Cut 2 pieces of fabric: 7" wide x 4" high for finishing
Roof Top Front and Back
Design area: 84w x 42h (6" wide x 3" high)
Model: 28ct Cashel Linen - Dk Teal Green 
Cut 2 pieces of fabric: 9" wide x 6" high  for finishing
Roof  Top Side 1 & 2
Design area: 52w x 54h (3.7" wide x 3.9" high)
Model: 28ct Cashel Linen - Dk Teal Green  
Cut 2 pieces of fabric: 7" wide x 7" high for finishing
Accessory Pack
BUNDLE A
Gloriana Florimell silk #135 "Bellagio" - multi
Kreinik Mori #0553 - blue lt
Kreinik Mori #0733 - beige
Kreinik Mori #2063 - orange
Kreinik Mori #3017 - red med lt
Kreinik Mori #8050 - black
Needlepoint Inc. #141 - flesh
Needlepoint Inc. #294 - green med
Needlepoint Inc. #455 - purple
BUNDLE B
Gloriana silk #087 "Forest" - greens med lt
Kreinik Mori #4044 - turquoise
Kreinik Mori #4077 - green dk
Kreinik Mori #5014 - blue dk
Kreinik Mori #8055 - grey
Needlepoint Inc. #304 - brown
Needlepoint Inc. #473 - yellow
Needlepoint Inc. #504 - red med dk
Needlepoint Inc. #572 - melon
BUNDLE C
Specialty seed bead #101 - mixed colours
SJ Designs 3.4 drop beads #58 - gold
Specialty button - Large Star - yellow
Specialty button - Small Flower - red  DISCONTINUED
Specialty button - Small Star - red  

DISCONTINUED

Specialty button - Tiny Round - white
Specialty button - Micro Mini Round - red
Specialty charm - Bell - antique gold
Specialty charm - Scissor - antique gold
BUNDLE D
Specialty button - Snowman red scarf
Specialty button - Snowman green scarf
Specialty buttons - Holly
Specialty button - Green Box Red Bow
Specialty button - Green Box Gold Bow
Specialty button - Red Box Green Bow
White Silk Floss Pack
Contains Kreinik Mori #8000 - white - enough silk floss to stitch NWShop.
Additional Materials Needed:
28ct Cashel Linen - Gingerbread and Dk Teal Green
DMC #8 Perle Cotton (thick twist) - white
DMC #12 Perle Cotton (thin twist) - white
#24 tapestry needle
#10 short beading needle
Sorting Threads in your Accessory Pack

Remember to sort in daylight near a window, not under artificial light indoors, as the colours change with the colour of the light bulbs we use. Packaged in Bundles for easier sorting!!! :) To make your thread sorting much easier, we have sorted your fibers into bundles within the Accessory Pack. Each of these bundles contains at least one easily identifiable thread so you can tell which bundle is which. Each floss has a different number of strands in each thread length. This helps you differentiate the different colours in your pack. Needlepoint Inc. silk floss has 8 strands per length The Kreinik Mori has 6 strands per length The Gloriana Overdyed Silk has 12 thin strands per length. Dinky Dyes has 6 strands per length. FYI: We noticed that some colours have been divided into two lengths. This can happen if a colour requires 1.5 yards. Our kit maker might include one 1 yard length and one 0.5 yard length, so don't get confused if one colour has more than one length of thread. We hope this extra information will help you sort your threads more easily!
---
PDF Pattern Purchase and Download Instructions
Copyright Reminder: As a quick reminder, all of our PDF patterns are copyright protected and – as with all our patterns – are not permitted to be copied or distributed. We appreciate you sharing links here with your friends rather than sharing the actual PDFs :) Thank you!
Payment & Security
Your payment information is processed securely. We do not store credit card details nor have access to your credit card information.