Roll over image to zoom in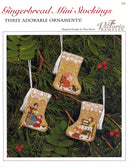 Description
Gingerbread Ornaments for your Christmas Tree!  You can create three tiny Gingerbread stocking ornaments for your gift giving this year, each one showing various stitchers working on Christmas decorations and gifts. The first ornament: "We're Ready for Christmas" shows an auburn haired woman with her little friend stitching those last minute gifts. "Spot Waits for Dinner" depicts a blonde woman with her little dog who's been waiting for her to stop stitching and give him some dinner! Finally, "Stitching Mom and Daughter" is another loving scene with a dark haired woman who is stitching with her little daughter at her feet. The backs of each stocking can be personalized with name and date, and each one has a special Christmas button. These three cute ornaments are stitched on Gingerbread coloured linen like: Zweigart's 'Antique Almond', Picture This Plus's 'Gingerbread', or Lakeside Linen's 'Vintage Autumn Gold'. They are decorated and sewn together with white icing stitching. Collect and stitch all Gingerbread buildings, including the Gingerbread Bakery, and the Gingerbread House, Church, Candy Cane Cottage and Gingerbread Tree Etui, on your mantle. Also, look for the Gingerbread Cookies and Gingerbread Garden as well! Stitch, decorate and hang these delicious Gingerbread Stockings on your tree. Look for more Gingerbread Village additions in future years! Sending all of you a delicious and Merry Christmas and a Happy New Year from my house to yours! -Thea
Design area: 45h x 35w (3.2" high x 2.5"wide)
Model: 28ct Cashel Linen - 'Gingerbread' from PIcture This Plus
Cut 2 pieces of fabric for each: 6" high x 5.5" wide for finishing  
Suggested Materials
Kreinik Mori #0113 - flesh
Kreinik Mori #5055 - blue
Needlepoint Inc. #401 - green lt
Needlepoint Inc. #473 - yellow
Needlepoint Inc. #504 - red
Needlepoint Inc. #635 - salmon med
Kreinik Mori #0325 - salmon lt
Kreinik Mori #4216 - olive green dk
Needlepoint Inc. #126 - brick red
Needlepoint Inc. #694 - gold
Needlepoint Inc. #966 - grey brown dk
SJ Designs 2mm pearl beads - white
Flower Button small - white
Star Button small - white
Hearts Button small - white
Star Button medium - yellow
Tree Button - green
Gingerbread Man Button small
Kreinik Mori #8000 - white - 3 - 5 yards skeins
Picture This Plus 28ct Cashel Linen - "Gingerbread" 
DMC #8 Perle Cotton (thick twist) - white
DMC #12 Perle Cotton (thin twist) - white 
#24 tapestry needle
#10 short beading needle
Stitches in all 3 designs:
Cross Stitch
Back Stitch
Cross Stitch over ONE fabric thread
Partial Diamond Eyelets
Diamond Eyelets
Satin Stitches
French Knots
Lazy Daisy
Buttons and Bead attachments
---
PDF Pattern Purchase and Download Instructions
Copyright Reminder: As a quick reminder, all of our PDF patterns are copyright protected and – as with all our patterns – are not permitted to be copied or distributed. We appreciate you sharing links here with your friends rather than sharing the actual PDFs :) Thank you!
Payment & Security
Your payment information is processed securely. We do not store credit card details nor have access to your credit card information.