Roll over image to zoom in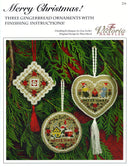 Description
Stitch these three "Gingerbread Ornaments" designed for the Gingerbread series. The stitching is fun and easy, with delicious silk threads and ribbon, gold and red beads and lots and lots of white 'icing'. Stitch and finish this Gingerbread round Ornament! The first one shows two stitchers next to a fireplace, with the words "Merry Christmas" and a rose underneath! The second ornament shows a lovely Christmas town scene on the front, with some adorable roses to decorate the outside. Finally, there's a gorgeous Hardanger Ornament edged with Blanket Stitches for a super-fast finish! Stitch and finish all three, to hang on your tree.. you'll be an expert finisher when you're done! There are three different methods of finishing ornaments. The first method uses framing matboard as a base and is shown here for the heart ornament. The second one is sewn together with a Whipstitch. The third uses a Blanket Stitched finishing method. Just be sure to adjust the measurements of the fabric and choose proportionately appropriate backing fabric. You can use these methods for any design, no matter how big or small it is (think scissors fobs!) In addition to the finishing techniques, you will also find clear and easy instructions and step by step photos to make your own cording and simple tassels and how to attach them to your lovely creations! - Thea
Merry Christmas Ornament 
Design Area: 42w x 39h (3" wide x 2.75" high)
Model: 28ct Cashel Linen - Dirty Linen:
Cut fabric: 6" wide x 6" high for finishing
Gingerbread Town Ornament
Design Area: 42w x 42h (3" wide x 3" high)
Model: 28ct Cashel Linen - Dirty Linen:

 

Cut 6" wide x 6" high for finishing 
Gingerbread Hardanger Ornament
Design Area: 46w x 46h (3.25" wide x 3.25" high)
Model: 28ct Cashel Linen - Dirty Linen:
Cut fabric: 6" wide x 6" high for finishing
Suggested Materials
DMC #8 Perle Cotton - white

DMC #12 Perle Cotton - white

Kreinik Mori #0103 - flesh

Kreinik Mori #2014 - yellow

Kreinik Mori #4216 - green dk

Kreinik Mori #8050 - black

Needlepoint Inc. #0226 - red dk

YLI 4mm silk ribbon #137 - red

Kreinik #4 Braid #002 - metallic gold

Kreinik Mori #0434 - green lt

Kreinik Mori #0553 - blue

Kreinik Mori #3017 - red lt

Kreinik Mori #8000 - white

Needlepoint Inc. #0974 - brown

Gloriana 4mm silk ribbon #046 - "Fallen Leaves"

SJ Designs petite bead #1813 - red

Mill Hill seed bead #00557 - gold

Zweigart 28ct Cashel Linen - Dirty Linen

#24 tapestry needle

#10 short beading needle
Suggested Extra Materials you might need for Finishing:
Stitched Designs

Wax Paper

Regular Paper to make more permanent template

4 ply Mat Board (acid free)

Roller blade, ruler and cutting mat

Aileen's Tacky Glue - gold bottle

Heavy Weight (covered brick)

2 long pencils or other smooth sticks like chopsticks

Co-ordinating #12 or #8 Perle Cotton or other silky threads

Cotton sewing thread - matching colour to stitched design

High Loft Polyester Quilters Batting

Backing fabric - cotton (colour to co-ordinate with linen)

Contrasting fabric (solid colour for under cut areas)

Lightweight Iron-on Interfacing or Lightweight Fusible Pellon

Sharp Embroidery scissors for Hardanger

Paper Scissors (sharp scissors used only for paper, not material)

Very Sharp material Scissors to snip ends and cut fabric

Sewing Needle

   
Stitches used in the three Gingerbread Ornaments:
Smyrna Cross Stitch

Cross Stitch

Back Stitch

Lazy Daisy Stitch

Satin Stitch

Bargello

Cross Stitch over ONE fabric thread

Woven Spider Web Rose

Japanese Ribbon Stitch

French Knot

Modified Kloster Blocks

Blanket Stitch

Algerian Eyelet

Greek Cross
---
PDF Pattern Purchase and Download Instructions
Copyright Reminder: As a quick reminder, all of our PDF patterns are copyright protected and – as with all our patterns – are not permitted to be copied or distributed. We appreciate you sharing links here with your friends rather than sharing the actual PDFs :) Thank you!
Payment & Security
Your payment information is processed securely. We do not store credit card details nor have access to your credit card information.