Roll over image to zoom in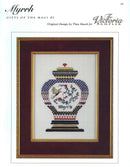 Description
Gifts of the Magi #3 Christmas is a time many of us give gifts from the heart. This tradition has its roots in the legend of the Three Wise Men who came to pay homage to the Christ child. Exchanging gifts was, and still is, a very important ritual in the Middle East. Each of the three gifts given by the Magi, were thought to be precious and highly valued. This sampler symbolizes the gift of Myrrh. According to the legend, Myrrh was given by Caspar, the King of Tarsus. Made from the gum of an Arabian desert bush, it was traditionally used to anoint and embalm priests and kings. This sampler is shaped like an oriental gift jar, giving an impression of t he type of container such a fine gift would be carried in. The royal colours of purple, magenta, crimson, blue and green give depth and body to the piece, while the opulent gold stitching, couching and beadwork shimmer with rich beautiful lights! I hope you stitch this with thoughts of love, joy and true generosity of spirit!
Design Area: 109h X 75w (7 3/4" h x 5 1/3" w)
Model: 28ct Platinum Cashel Linen
(Cut fabric: 14" high x 12" wide)

Suggested Materials:
Caron Wildflowers "Nefertiti"
YLI Silk Ribbon #021
DMC 5282 Metallic Gold Floss
DMC floss #3033, Black, #500, #987, #498
Anchor floss #887 - gold
Trebizond TRA111 Black or Black 310 DMC Perle Cotton #5
Trebizond TRA 510 Amethyst or 550 DMC Perle Cotton #5
Trebizond TRA 610 Lapis or 820 DMC Perle Cotton #5
Trebizond TRA 132 Ecru or 712DMC Perle Cotton #5
Trebizond TRA 410 Ruby or 814 DMC Perle Cotton #5
Kreinik #16 Braid #031 - Crimson
Kreinik #002J Japan Thread - Gold
Kreinik #8 Braid #002HL - Gold
Kreinik #8 Braid #042 - Multi
Mill Hill Beads #00557 gold
Mill Hill Bugle Small #72045 green
Size A - GTSP1 gold spangles
28ct Cashel Linen - platinum
#24 tapestry needle
#10 short beading needle
Stitches used in this Sampler:
Cross Stitch
Backstitch
Beadwork
Satin Stitch
Couching
Modified Diamond Eye Stitch
Upright Cross Stitch
Smyrna Cross Stitch
Bargello
Queen Stitch
Japanese Ribbon Stitch
Lazy Daisy Stitch
Whipped Spider Rose
Diamond Eye Stitch
---
PDF Pattern Purchase and Download Instructions
Copyright Reminder: As a quick reminder, all of our PDF patterns are copyright protected and – as with all our patterns – are not permitted to be copied or distributed. We appreciate you sharing links here with your friends rather than sharing the actual PDFs :) Thank you!
Payment & Security
Your payment information is processed securely. We do not store credit card details nor have access to your credit card information.