Roll over image to zoom in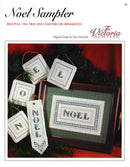 Description
It is always heartwarming to stitch some special gifts for Christmas. The Bellpull can be stitched in a few evenings, including the easy Hardanger motifs at the bottom. I've also included an easy way to attach the Bellpull hardware! Nun's stitch around the little flap at the top, cut away the excess and fold over and tack it to the front with a few stitches left and right. Slide the hardware into the fold. Never has finishing been this easy! The classically beautiful horizontal Tea Tray sampler is surrounded by cutwork, and is mounted under a mat and protective glass in the elegant but simple to mount, Sudberry Tea Tray. Finally, you'll see the single letters of Noel surrounded by lacy Hardanger frames for each of the four ornaments. These ornaments can be hung from the tree, from a green wreath like we've done, in the hall, or from the mantle. We've finished these letters into hanging Christmas ornaments for the picture, but they also make exquisite Holiday coasters, easily finished if you cut all around the border of Blanket Stitches! A delight of textures and techniques for the experienced stitcher, these projects are also ideal for the beginner to intermediate specialty stitcher! You will practice Basic Hardanger techniques like Kloster Blocks, Algerian Eyes, Satin Stitches, Wrapping and Weaving, Dove's Eyes, and also more intermediate techniques like Greek Cross Filling Stitches. You will learn the Smyrna Cross, pulled Four Sided Stitch, Diamond Eye Stitch, and Herringbone Stitch as well. Keep any of these designs for yourself, or give as Christmas gifts to your loved ones. You can be sure that your generosity and stitching skills will be soo appreciated!
Noel Sampler Bellpull
Design Area: 38w x 135h (2.75" Wide x 9.6" High)
Model: 28ct Platinum Cashel Linen
(Cut fabric: 9" X 16" for framing, 6" X 16" for bellpull finishing.)
Noel Square Ornaments
Design area: 46h x 46w (3.25" x 3.25")
Model: 28ct. Platinum Cashel Linen
(Cut fabric: 6" X 6" for each ornament)
Noel Horizontal Tea Tray
Design area: 66h x 114w (4.7" x 8.1")
Model: 28ct Platinum Cashel Linen
(Cut fabric: 11" X 14")
Suggested Materials:
Access Soie Perlee #550 - medium green (16m spool)
Access Au ver a Soie/Soie D'Alger #4624 - cranberry
Kreinik #4 braid - #002 gold (2 x 11m spools)
Kreinik Mori #4167 - deep green
Mill Hill Glass Treasures 12093 red and gold heart
28ct Cashel Linen - platinum
DMC Perle #8 Cotton #712
DMC Perle #12 Cotton #712
#24 tapestry needle
#10 short beading needle
Stitches used in this Sampler:
Cross Stitch
Backstitch
Kloster Blocks
Blanket Stitches
Greek Cross
Woven Bars with Dove's Eyes
Algerian Eyelet
Four Sided Stitch
Herringbone Stitch
Beadwork
Diamond Eyelet
Smyrna Cross Stitch
---
PDF Pattern Purchase and Download Instructions
Copyright Reminder: As a quick reminder, all of our PDF patterns are copyright protected and – as with all our patterns – are not permitted to be copied or distributed. We appreciate you sharing links here with your friends rather than sharing the actual PDFs :) Thank you!
Payment & Security
Your payment information is processed securely. We do not store credit card details nor have access to your credit card information.