Roll over image to zoom in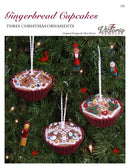 Description
Merry Christmas from the Gingerbread Bakery! Three delicious yummy Gingerbread Cupcake ornaments are included in this leaflet. Learn how to finish these cupcakes professionally, with our clear instructions and colour photos! The tops of each one is different although they all use the same Red Silicone Baking Cups, available in the Accessory Pack. The tops are all stitched with white Perle Cotton using a simple blanket stitch, although you can also substitute satin stitches for simplicity. Then they are decorated with "Hardanger" icing sugar, some big colourful bead 'candies' and cute button charms.. like iced Gingerbread Men, roly poly Snowmen, and green Holly and red Berry Button 'candies'.  Each cupcake is hung from handmade cording that you can make yourself. Instructions and colour photos for finishing are included in back of this leaflet. Bake some Gingerbread Cupcakes today!
Design area for each ornament: 38h x 38w (2.7" high x 2.7" wide)
Model: 28ct Cashel Linen - Gingerbread:
Cut 3 pieces of fabric: 8" high x 8" wide for finishing
Suggested Materials
Kreinik Mori #8000 - white
Needlepoint Inc. #504 - red
Needlepoint Inc. #645 - green
Regular seed beads - mixed colours
Large seed beads - striped and solid mixed colours
Keepsake Christmas buttons small heart - red
Iced Cookie buttons - gingerbread man
Sew Cute Snowman buttons - red scarf
Sew Cute Snowman buttons - green scarf
Holly Jolly Christmas buttons - holly
Snow Flake buttons - white (DISCONTINUED)
Itty Bitty Cookie buttons large heart - red
3 Red Silicone Baking Cups
Picture this Plus 28ct Cashel Linen, "Gingerbread" or You can substitute other linen colours if you so desire...
DMC #8 Perle Cotton (thick twist) - white
DMC #12 Perle Cotton (thin twist) - white
#24 Tapestry Needle 
#10 Short Beading Needle
Suggested Materials for Finishing:
Plain Paper
Straight Pins
Polyester Quilt Batting
Clothes pins
4 ply Mat Board (acid free)
Roller blade, ruler and cutting mat
2 long pencils or other smooth sticks like chopsticks
White #12 or #8 Perle Cotton or other silky threads for cording
Paper Scissors (sharp scissors used only for paper, not material)
Very Sharp material Scissors to snip ends and cut fabric
Sewing Needle
Stitches used in the three Ornaments:
Blanket Stitches
Satin Stitches
Kloster Blocks
Algerian Eyelet
Diamond Eyelet
Silicone Cup attachment with needle and thread
---
PDF Pattern Purchase and Download Instructions
Copyright Reminder: As a quick reminder, all of our PDF patterns are copyright protected and – as with all our patterns – are not permitted to be copied or distributed. We appreciate you sharing links here with your friends rather than sharing the actual PDFs :) Thank you!
Payment & Security
Your payment information is processed securely. We do not store credit card details nor have access to your credit card information.