Roll over image to zoom in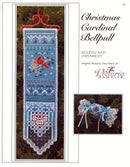 Description
Cardinal Sampler! It's beginning to look a lot like Christmas! Adorable, bright scarlet Cardinals really catch your eye in this adorable Sampler on striking blue-green cashel linen, and the matching Sugarplum Ornament with Hardanger flounces, resembles a delightful wrapped sweet candy ornament for your tree. They are both stitched with brilliant silk flosses in reds, pinks, blue-greens, and bright white smooth silky perlee, gold metallic threads, as well as a sprinkling of little turquoise beads for sparkle. The sampler can be stitched in a few evenings, including the Hardanger motifs at the bottom and can then be made up very easily and quickly into a bellpull. The sampler can also be framed and displayed throughout the year. The petit Cross Stitched birds are fun and easy to do, and would make into an adorable ornament by themselves. Another idea for an ornament or mini-bellpull, is to stitch only the Hardanger at the bottom of the sampler and hang it on the tree with some tassels. Inside this leaflet there are easy directions for bellpull finishing. Never has finishing been this easy! Stitch and finish these designs with a song in your heart this Christmas! Thea
Christmas Cardinal Sampler

Design area: 38w x 151h (2.75" Wide x 10.75" High)
Model: 28ct Cashel Linen Amsterdam Blue:
Cut fabric: 9" wide x 17" long for framing, (6" wide x 17" long for bellpull)

Christmas Cardinal Sugarplum Ornament

Design area: 102w x 96h (7.25" wide x 6.85" high)
Model: 28ct Cashel Linen Amsterdam Blue: 
Cut fabric: 11.5" wide x 11" long

Suggested Materials

Kreinik #4 Braid #002 - metallic gold
Kreinik Mori #0103 - pink lt (light rose pink color)
Kreinik Mori #0304 - salmon (light peach coral color)
Kreinik Mori #1113 - orange red (med coral-red color)
Kreinik Mori #1114 - red lt (medium red color)
Kreinik Mori #1117 - red (dark red color)
Kreinik Mori #4044 - teal green med
Kreinik Mori #4046 - teal green dk
Kreinik Mori #7014 - golden brown lt
Kreinik Mori #7124 - antique white (cream color)
Kreinik Mori #8050 - black
Access AVA Soie #3412 -beaver grey lt (lightest silver tan)
Access AVA Soie #3341 -beige brown med (med mocha)
Access AVA Soie #3843 -ash grey dk (darkest grey color)
Access AVASoie #4624 - red dk (very darkest red color)
Needlepoint Inc #974 - brown dk (med brown)
Mill Hill Seed Bead #3007 - teal green
28ct Cashel Linen Amsterdam Blue or other choice
Access Soie Perlee Crème - cream (OR substitute DMC #8 Perle Cotton - ecru)
DMC #12 Perle Cotton - ecru (thinnest twisted thread)
#24 tapestry needle
#10 short beading needle
Stitches used in this Sampler:

Smyrna Cross
Satin Stitch
Cross Stitch
Four-Sided Stitch
Beadwork
Backstitch
French Knots
Eyelets
Straight Stitch
Cross Stitch over one fabric thread
Diamond Eyelets
Smyrna Rice Stitch
Upright Cross
Double Leviathan
Herringbone
Algerian Eyelets
Kloster Blocks
Woven Bars
Wrapped Bars
Greek Crosses
Dove's Eyes
---
PDF Pattern Purchase and Download Instructions
Copyright Reminder: As a quick reminder, all of our PDF patterns are copyright protected and – as with all our patterns – are not permitted to be copied or distributed. We appreciate you sharing links here with your friends rather than sharing the actual PDFs :) Thank you!
Payment & Security
Your payment information is processed securely. We do not store credit card details nor have access to your credit card information.