Roll over image to zoom in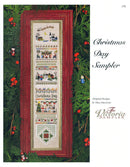 Description
Stitch this fun and quick sampler for Christmas Day! We're celebrating the day of Christmas in all the traditional ways. At the top of the sampler is our town, with Santa and his reindeer flying overhead. The next panel shows the living room where we hang our stockings so Santa can find them as we sleep. In the next panel, we've been to church , we've opened our presents, so now we go for a gentle walk. Next is a panel showing our Christmas dinner..! What fun and laughter, as children settle down to their toys, and the adults relax after the turkey! The dividing bands between the panels are also in on the fun; holly with berries, greenery with red hearts and garlands, specialty stitches like drawn thread and the optional Hardanger motif below.. what a joyful Christmas sampler! If you've always wanted to stitch something to celebrate the fun and joy of Christmas Day, come stitch this one..! I've stitched mine on Raw Linen, but you can choose your own coloured linen, using the same silks in bright colours ! Frame or fashion into a bellpull and hang this in your hall at Christmastime! - Thea
Design area: 40w x 235h (2.85" wide x 16.8" high)
Model: 28ct Cashel Linen - Raw Linen 
Cut fabric: 9" wide x 23" high for framing
Suggested Materials
Gloriana silk #087 "Forest" - greens med
DMC #8 Perle Cotton (thick twist) #498 - red
Kreinik Mori #0103 - flesh
Kreinik Mori #3017 - salmon med dk
Kreinik Mori #7014 - tan
Kreinik Mori #8050 - black
Needlepoint Inc. #113 - blue lt
Needlepoint Inc. #473 - yellow
Needlepoint Inc. #766 - golden brown
Needlepoint Inc. #925 - antique blue dk
Gloriana Florimell #112 "Harvest Grape" - multi
Kreinik #4 Braid #002 - metallic gold
Kreinik Mori #0523 - grey
Krenik Mori #4077 - green dk
Krenik Mori #5013 - blue med
Kreinik Mori #7087 - antique gold
Kreinik Mori #8000 - white
Needlepoint Inc. #503 - red dk
Needlepoint Inc. #571 - salmon lt
Needlepoint Inc. #973 - taupe med dk
Mill Hill seed bead #00479 - white
Mill Hill seed bead #00557 - gold
SJ Designs seed bead #11013 - red
Mill Hill petite bead #40557 - gold
Specialty seed bead #101 - mixed colours
Specialty buttons - small heart - red
Specialty buttons - small stars
Zweigart 28ct Cashel Linen - Raw Linen
DMC #8 Perle Cotton (thick twist) - white
DMC #12 Perle Cotton (thin twist) - white
#24 Tapestry needle
#10 short Beading needle
Stitches Used in this Sampler:
Cross Stitch
Cross Stitch over ONE fabric thread
Back Stitch
Arrowhead Stitch
Modified Double Rice Stitch
Fern Stitch
Interlaced Beaded Hemstitch
French Knot

Reversed Scotch Stitch
Queen Stitch
Modified Leaf Stitch
Satin Stitch 
Diamond Eyelet
Plait Stitch
Lazy Daisy Stitch
Rice Stitch
Four-Sided Hemstitch
Partial Rhodes Stitch
Algerian Eyelets
Running Stitch
Kloster Blocks
Divided Wrapped Bars with Doves Eyes
Spider Web Flower Filling Stitch
---
PDF Pattern Purchase and Download Instructions
Copyright Reminder: As a quick reminder, all of our PDF patterns are copyright protected and – as with all our patterns – are not permitted to be copied or distributed. We appreciate you sharing links here with your friends rather than sharing the actual PDFs :) Thank you!
Payment & Security
Your payment information is processed securely. We do not store credit card details nor have access to your credit card information.