Roll over image to zoom in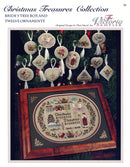 Description
STITCH THIS BEAUTIFUL BOX TOP AND BRIDE'S TREE ORNAMENTS SET! This meaningful and beautiful Christmas Treasures Collection of Ornaments was inspired by an old German tradition that suggests that a couple's Christmas tree needs twelve specific ornaments for happiness in their life's journey together. The Christmas tree of a married couple can include these twelve ornaments to insure a peaceful and fruitful marriage and family. This Bride's Tree Box with twelve matching Bride's Tree Ornaments can be joyously displayed by anyone who loves family and their home!! Each motif symbolizes the following meanings…
An Angel - God's Guidance in the Home
A Rose - Beauty, Affection and Faithfulness in the Marriage
A Rabbit - Hope and Faith and Peace with Nature
A Teapot - Hospitality
A Pine Cone - Motherhood and Fruitfulness and Eternity
A St. Nicholas or Santa - Unselfishness and Goodwill and Sharing
A House – Family Shelter and Protection
A Fruit Basket – Generosity and Giving of Plenty
A Bird - Happiness and Joy and the Holy Spirit
A Flower Basket - Good Wishes and Beauty in the home
A Heart - True Love and Love in the Home
A Fish - Christ's Blessing as well as Fertility
Box Top
Design Area: 96w x 74h (6.85" wide x 5.3" high)
Model: 28ct Cashel Linen - Taupe:
Cut fabric: 13" wide x 11" high for framing
St. Nicholas Ornament (example of approximate size)
Design Area: 18w x 24h (1.3" wide x 1.7" high)
Model: 28ct Cashel Linen - Taupe:
Cut fabric: 4.25" wide x 4.75" high for ornament
Suggested Materials

Access Soie Perlee #creme - cream (twisted thread) - 1 - 16m spool
Caron Collection Waterlilies #155 "Steel" - multi steel blues
Gloriana silk #115 "Topiary" - multi green, red, gold, purple
Kreinik #4 Braid #002 - metallic gold
Kreinik Mori #4215 - olive green med
Kreinik Mori #8000 - white
Needlepoint Inc. #0143 - rose dk
Needlepoint Inc. #0964 - grey brown
Gloriana Silk #045 "Lacquered Gold" - multi gold
Kreinik #4 Braid #033 - metallic blue
Kreinik Mori #0103 - flesh
Kreinik Mori #4216 - olive green dk
Kreinik Mori #6124 - purple lt
Kreinik Mori #8050 - black
Needlepoint Inc. #0126 - brick red dk
Mill Hill petite bead #40557 - gold
SJ Designs seed bead #462E - rainbow olive green
SJ Designs petite bead #18116 - brick red
SJ Designs petite bead #18076 - ice blue
Access Size A spangle - gold
Zweigart Fabric - 28ct Cashel Linen - Taupe
DMC #12 Perle Cotton - white
#24 tapestry needle
#10 short beading needle
Stitches used in this Sampler:
Plait Stitch
Smyrna Cross
Arrowhead Stitch
Satin Stitch
Lazy Daisy
Colonial Knot
Basket Filling
French Knot
Scotch Stitch
Crossed Scotch Stitch
Satin Stitch Heart
Bosnia Stitch
Double Smyrna Rice
Elongated Four Sided
Double Leviathan
Bowtie Stitch
Algerian Eyelet
Fishbone Stitch
Star Stitch
Kloster Block
Dove's Eye
Woven Bars
Partial Rhodes
Cross Stitch over ONE fabric thread
Fern
Reverse Wave
Single Cross Eyelet
Rhodes Heart
Queen Stitch
Satin Stitch Pins
Double Cross 
---
PDF Pattern Purchase and Download Instructions
Copyright Reminder: As a quick reminder, all of our PDF patterns are copyright protected and – as with all our patterns – are not permitted to be copied or distributed. We appreciate you sharing links here with your friends rather than sharing the actual PDFs :) Thank you!
Payment & Security
Your payment information is processed securely. We do not store credit card details nor have access to your credit card information.