Roll over image to zoom in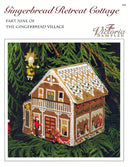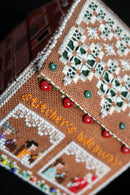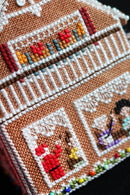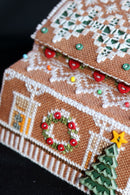 Description
Come and stitch this delicious Gingerbread Retreat Cottage, Part 9 in the  Gingerbread Village! Added to the Tree Etui, the Stitching House, Church, Candy Cane Cottage, Bakery, Haunted House, Needlework Shop, and Quilt Shop, this little Gingerbread Retreat cottage is inspired by my friend Sue's camp cottage! At the front, you see a welcoming figure in a Santa hat waving you inside from the lower veranda. Picture windows at the lower floor show a class taking place.. where I'm teaching a group of happy students. There is even a separate porch addition, which I know you'll love! The roof is almost covered with Hardanger stitching, and is the main focus. You will be stitching with yummy silk flosses, Perle Cottons, sparkling beads and delicious looking 'candy' buttons. This building was not lined, which makes finishing easier and faster, but you can always line it inside, or add a bottom to finish it off nicely. Finishing instructions and colour photos are included at the end of this leaflet. This year, place all your finished Gingerbread buildings on your mantle for the Holidays! Look for more Gingerbread Village additions in future years! Sending all of you a delicious and Merry Christmas and a Happy New Year from my house to yours! -Thea
Gingerbread Retreat Cottage Fabric Layout is in Leaflet
(Note: If everything is made out of 28ct Gingerbread Coloured linen, we recommend you buy 14" wide x 31" high. The fabric layout for this size is in the leaflet. You can use Gingerbread coloured Cashel linen for the porch and cottage roof sections, or choose another coloured linen, as long as it's the same count. The darker the colour, the more the hardanger will stand out!, but it's a bit more challenging to see.
Cottage Front: and Back: 41w x 57h (2.9" w x 4.1" h) CUT: 6" w x 7" h
Cottage Side x 2: 49w x 37h (3.5" w x 2.6" h) CUT x 2: 6 1/2" w x 6" h
Cottage Roof x 2: 49w x 34h (3.5" w x 2.4" h) CUT x 2: 6 1/2" w x 6" h
Porch Front and Back: 10w x 29h (.7" w x 2.1" h) CUT x 2: 4" w x 5" h
Porch Side: 49w x 25h (3.5" w x 1.8" h) CUT: 6 1/2" w x 5" h
Porch Roof: 49w x 12h (3.5" w x .9" h) CUT: 6 1/2" w x 4" h
Suggested Materials
Dinky Dyes #113 "Cobar" - copper golds
Dinky Dyes #135 "Dandenong" - greens
Kreinik Mori #1114 - red
Kreinik Mori #8050 - black
Needlepoint Inc. #252 - grass green
Needlepoint Inc. #324 - antique blue dk
Needlepoint Inc. #554 - yellow
Needlepoint Inc. #955 - brown dk
Kreinik Mori #725 - gold lt
Kreinik Mori #8055 - grey
Needlepoint Inc. #209 - red dk
Needlepoint Inc. #355 - green med dk
Needlepoint Inc. #455 - purple
Needlepoint Inc. #481 - turquoise
Needlepoint Inc. #556 - orange
Needlepoint Inc. #753 - flesh
Mill Hill seed bead #00479 - white
SJ Designs 3.4 drop beads #58 - gold
Large Gingerbread Man button
Star Buttons - topaz 
Tree Button large
SJ Designs 2mm pearl beads - white
Specialty seed beads #101 - mixed colours
Small Heart Button - red
Micro Mini Rounds Buttons - white
Micro Mini Round Buttons - red
Micro Mini Round Buttons - green
Kreinik Mori #8000 - white (4 - 5 yard skeins)
Picture This Plus 28ct Cashel Linen - Gingerbread
DMC #8 Perle Cotton (thick twist) - white
DMC #12 Perle Cotton (thin twist) - white
#24 tapestry needle
#10 short beading needle
Stitches used:
Cross Stitch
Cross Stitch over ONE fabric thread
Back Stitch
Satin Stitch
Diamond Eyelets
Hardanger - Kloster Blocks
Wrapped Bars with Doves Eyes
Woven Bars with Doves Eyes
Partial Greek Cross
---
PDF Pattern Purchase and Download Instructions
Copyright Reminder: As a quick reminder, all of our PDF patterns are copyright protected and – as with all our patterns – are not permitted to be copied or distributed. We appreciate you sharing links here with your friends rather than sharing the actual PDFs :) Thank you!
Payment & Security
Your payment information is processed securely. We do not store credit card details nor have access to your credit card information.