Roll over image to zoom in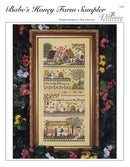 Description
Life is the Flower... for which Love is the Honey! -  This latest Farm Sampler is based on one of the oldest farms near where I live, a beekeeping and honey farm. When I was growing up there wasn't any other honey to buy. Babe and Charlie started their farm with a couple of hives and a market stand on the side of the road in Victoria early 1940's, but it was Babe herself who loved the beekeeping craft. She eventually bought a large tract of land in farming country, and there she produced the best Wildflower honey on the west coast for years. Babe has recently passed on, and this farm sampler commemorates her personal values and the sweetness of her honey for the future. At the top of the Babe's Honey Farm sampler you'll find a couple of farm cottages, one to process the honey into the jars, and the other for the owner to live in. Lower down you will see several beekeeping staff carefully removing honey from the combs or gently walking through and inspecting the boxes and straw hives. You'll see a multitude of special flowers, especially wildflowers that were so much part of Babe's legacy. Finally, at the bottom is a Market Stall, where Babe sold her honey, beeswax, candles, pollen, soaps, and honey balsamic vinegar. Delicious! Each of the bands are separated by interesting specialty stitched bands. Parts of this design can be stitched separately, and can be used in many different ways. The top and bottom scenes are both wonderful as stand-alone designs, perhaps using the petit alphabet (on our website in the Mini Patterns section) to personalize your sampler. You could also use some of the motifs for a nametag, greeting card, or honey bee stitching accessories. I'm sure your imagination can supply lots more uses for all these dear little motifs. Enjoy bringing this delightful farm sampler to life! - Thea
Design: 72w x 180h (5.1" wide x 12.85" high)
Model: 28ct Cashel Linen - Golden Sand:
Cut fabric: 11" wide x 19" high
Suggested Materials
Dinky Dyes silk #025 "Ruby" - multi red pink
Gloriana silk #045 "Lacquered Gold" - multi golds
Gentle Art ST. "Spring Grass" - grass greens
Weeks #1298 "Gunmetal" - greys dk
Weeks #2158 "Juniper" - greens dk
NN#178 "Coventry Garden" - multi blue
Kreinik Mori #0733 - yellow lt
Kreinik Mori #6114 - pink med 
Kreinik Mori #8000 - white
Needlepoint Inc. #0974 - grey brown med
YLI 4mm silk ribbon #0105 - peach
Gentle Art ST "Presidential Blue" - blues
Gentle Art ST "Baby Spinach" - greens med
Weeks #1269 "Chestnut" - brown med dk
Weeks #2225 "Marigold" - multi orange yellow
Kreinik Mori #0103 - flesh
Kreinik Mori #0813 - grey beige
Kreinik Mori #7014 - tan
Kreinik Mori #8050 - black
Needlepoint Inc. #0155A - blue green med
Needlepoint Inc. #0503 - red
Needlepoint Inc. #0765 - caramel
YLI 4mm silk ribbon #0015 - yellow
Antique Gold Charm - tiny bumblebees
Zweigart 28ct Cashel Linen - Golden Sand 
#24 tapestry needle
#10 short beading needle
Stitches used in this Sampler:
Cross Stitch
French Knot

Lazy Daisy Stitch
Back Stitch
Cross Stitch over ONE fabric thread
Satin Stitch Triangles
Herringbone Stitch
Colonial Knot
Smyrna Cross
Modified Queen Stitch
Triple Cross Variation
Scotch Stitch
Captive Double Rice Stitch
Honeycomb Stitch
Double Running Stitch
Zig Zag Stitch
Bullion Knot
---
PDF Pattern Purchase and Download Instructions
Copyright Reminder: As a quick reminder, all of our PDF patterns are copyright protected and – as with all our patterns – are not permitted to be copied or distributed. We appreciate you sharing links with your friends rather than sharing the actual PDFs :) Thank you!
Payment & Security
Your payment information is processed securely. We do not store credit card details nor have access to your credit card information.