Roll over image to zoom in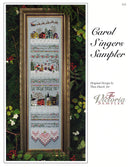 Description
"Here we come a'caroling   Among the leaves so green...  Here we come a wandering,   So fair to be seen... Love and Joy come to you,   And to you your wassail too,  And God bless you and send you..   A Happy New Year!"  This elegant Sampler is the secular companion to the Heirloom Nativity Sampler, and was inspired by special Christmas memories of singing in choirs during the holidays. At Christmas time, we would sing carols just like "Here We Come a-Caroling", the old English Wassail song to wish for good health for all. Singing special Christmas music usually began in September of each year, with practices at school and church. I found that singing together in harmony brought such joyful feelings of togetherness! When I was a child at home, my brother and I often sang around the piano while our Dad played and Mom made dinner. Singing music became such a focus during the winter, that we often continued to enjoy it long after New Year. At the top of this special Chirstmas sampler dedicated to the power of song, a little residential neighbourhood of houses nestles in the snow with Santa flying overhead. A colourful scene of old fashioned carol singers takes center stage. The 'Wassail Song' verse is interspersed with bands of specialty stitches and lace throughout the sampler. Then, below, more colourful snowy houses, this time surrounding a small Church. Bright red cardinals flit in the trees of the village. For me, Christmas was the most magical hopeful time of the year and singing brought extra feelings of joy. I hope that this sampler will bring that peace and beauty to you as you stitch it, remembering the sweet sound of Carols at your house at Christmas! - Thea
Design area: 333h x 72w (23.75" high x 5.1" wide)
Models: 28ct Cashel Linen - Smokey Pearl:
Cut fabric: 30" high x 11" wide for framing
Suggested Materials

Access Soie Perlee #blanc - white (twisted silk thread) -16m spool 
Kreinik #4 Braid #032 metallic - white - 11m spool 
Gloriana silk #115 "Topiary" - multi green, red, gold, purple - 1yd
Weeks #1277 "Collards" - multi olive greens - 6yd
DMC #12 Perle Cotton #927 - grey green lt - 4yd
DMC Floss #3777 - terra cotta vy dk - 2yd
Kreinik Mori #0602 - pink flesh - 1.5yd
Kreinik Mori #2014 - yellow - 1.5yd
Kreinik Mori #4166 - blue green med - 2yd
Needlepoint Inc. #0964 - grey brown - 1.5yd
Access Soie Perlee #550 - grey green - 4yd
Kreinik Mori #1117 - red - 1yd
Kreinik Mori #4163 - blue green lt - 1.5yd
Kreinik Mori #5055 - blue - 1.5yd
Kreinik #4 Braid #002 metallic - gold - 5yd
Au ver a Soie #3334 - purple - 1yd
Needlepoint Inc. #0184 - brown - 2yd
Needlepoint Inc. #0402 - grass green - 2yd
YLI 4mm silk ribbon #137 - brick red - 1yd
Kreinik Mori #3063 - apricot - 1yd
Kreinik Mori #4167 - green dk - 2.5yd
Kreinik Mori #6126 - purple dk - 1yd
Kreinik Mori #7087 - golden yellow dk - 1.5yd
Kreinik Mori #8050 - black - 3yd
Au ver a Soie #1435 - slate blue dk - 1yd
Au ver a Soie #F7 - cream - 1yd
Needlepoint Inc. #0126 - brick red dk - 1yd
Needlepoint Inc. #0967 - grey brown dk - 2.5yd
Mill Hill petite bead #40557 - gold
Mill Hill petite bead #40479 - white
SJ Designs seed bead #11114 - bronze iris
SJ Designs 2mm pearl bead - gold
SJ Designs 2mm peral bead - white
Star Charm - antique gold
Kreinik Mori #8000 - white - enough silk floss to stitch entire sampler.
Zweigart 28ct Cashel Linen - Smokey Pearl 
DMC #12 Perle Cotton - white
#24 tapestry needle
#26 tapestry needle
#10 short beading needle
Stitches used in this Sampler:
Cross Stitch
Backstitch
Cross Stitch over ONE fabric thread
Multiple Oblong Cross Stitch
Double Cross Eyelet
Partial Diamond Eyelet
Satin Stitch Scallops
Lattice Stitch
Arrowhead Stitch
Modified Scotch Stitch
Modified Leviathan Stitch
St. George's Cross Stitch
Japanese Ribbon Stitch
Leviathan Stitch
Herringbone Stitch
Double Running Stitch
Satin Stitch Triangles
Partial Rhodes Stitch
Four-Sided Stitch
Double Rice Stitch
Diamond Eyelets
Plait Stitch
Oblong Cross Stitch
Algerian Eyelet
Kloster Blocks
Wrapped Bars
Woven Bars
Dove's Eyes
Greek Crosses 
---
PDF Pattern Purchase and Download Instructions
Copyright Reminder: As a quick reminder, all of our PDF patterns are copyright protected and – as with all our patterns – are not permitted to be copied or distributed. We appreciate you sharing links here with your friends rather than sharing the actual PDFs :) Thank you!
Payment & Security
Your payment information is processed securely. We do not store credit card details nor have access to your credit card information.