Roll over image to zoom in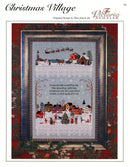 Description
A while ago, I read a description of a joyful tree lighting ceremony in a small town and I immediately knew I wanted to depict this scene in stitches. Even in bigger cities, there are smaller neighbourhood events just like this, and I wanted to remember the feeling that these events give each one of us. The townsfolk of my imaginary little town gather together as they chat, eat, and wait for their friends. Christmas spirit fills the air as kids play happily, and town folk get ready for the season. When everyone has gathered, I imagine the gasps of delight as the Town Tree blazes forth after dusk, and the fun and laughter as Santa Claus arrives by sleigh with his reindeer (or by horse drawn carriage). I imagined lots of snow, ice skating on the river or pond nearby, and a colourful picture of kids playing, and carollers singing while the country folk arrived. This sampler is the result of my flight of Christmas fancy! At the top of the sampler you'll see a farmhouse with sparkling lights and glowing windows, a small mill nearby, a lighthouse to shine a beacon for those who will arrive by water, a happy child just finishing her snowman before being collected by her parents sleighing on their way into town. In the middle section, the first stanza of H.W. Longfellows' poem "Christmas Bells" are surrounded by cardinals and specialty stitched snowflakes. This poem was written in 1864 at Christmas during the American civil war, and is still sung by carollers to remind ourselves of peace and good will. At the bottom of the sampler my imaginary small town is depicted, including church and schoolhouse, as snow lies round about. Folks are skating, singing, and enjoying their friendship with each other. These three different parts of this design can be stitched separately as stand-alone designs perhaps create your own wording. Or stitch it as is, to create a sampler that embodies the best of Christmas spirit in your town! Have a very merry Christmas year after year, with love from - Thea
Design Area: 226h x 140w (16.1 high x 10" wide)
Model: 28ct Cashel Linen - Smokey Pearl 
Cut fabric: 22 " X 16" for framing
 Suggested Materials
Gloriana silk #045 "Lacquered Gold" - golds - 1.5 yd
Gentle Art "Buckeye Scarlet" - red med - 1.5 yd
Gentle Art "Mulberry" - brick reds dk - 2 yd
Kreinik Mori #0305 - coppers med lt (sub for GAST "Copper")  - 1 yd
Gentle Art "Harvest Basket" - tans - 2 yd
Kreinik Mori #103 - flesh - .5 yd
Kreinik Mori #634 - purple dk - 1 yd
Kreinik Mori #6112 - purple lt - .5 yd
Kreinik Mori #513 - blue green lt - 2 yd
Kreinik Mori #7124 - cream - 1 yd
Kreinik #4 Braid #002 - gold - 2 yd
Gentle Art "Maple Syrup" - multi browns - 5 yd
Weeks #2239 "Terra Cotta" - red browns md (sub for GAST "Gingersnap") - 1 yd
Weeks #2242 "Cognac" - red gold med (sub for GAST "Nutmeg")  - 1 yd
ThreadworX #1063 "Irish Cream - grass greens (sub for N.N. #140)  - .5 yd
Caron Waterlilies #155 "Steel" - blues med - 1 yd
Needlepoint Inc. #226 - red dk (sub for AVAS #4624)  - 1 yd
Needlepoint Inc. #964 - ash grey dk (sub for AVAS #3843) - 2.5 yd
Needlepoint Inc. #771 - yellow (sub for AVAS #2532) - 1 yd
Needlepoint Inc. #548 - 

green dk (sub for 

AVAS #3725)- 3 yd
Needlepoint Inc. #324 - blue dk (sub for AVAS #1746)  - 2 yd
SJ Designs petite bead #1813 - red
SJ Designs 2mm pearl beads - white
Mill Hill petite bead #42030 - copper
Sequins Stars - gold
Kreinik Mori #8050 - black - 2  - 5 yard skeins
Kreinik Mori #8000 - white - 7-8 - 5 yard skeins
28ct Cashel Linen -  Smoky Pearl 
#24 Tapestry Needle
#10 short Beading Needle 
Stitches used in this Sampler:
Cross Stitch
Cross Stitch over one fabric thread
Backstitch
Straight Stitch
Beadwork
French Knots
Diamond Eyelets
Star Stitch
---
PDF Pattern Purchase and Download Instructions
Copyright Reminder: As a quick reminder, all of our PDF patterns are copyright protected and – as with all our patterns – are not permitted to be copied or distributed. We appreciate you sharing links with your friends rather than sharing the actual PDFs :) Thank you!
Payment & Security
Your payment information is processed securely. We do not store credit card details nor have access to your credit card information.