Roll over image to zoom in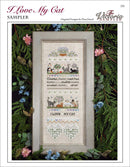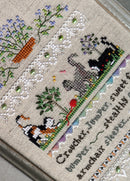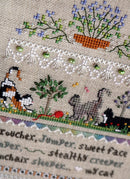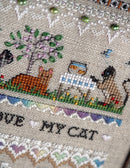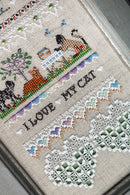 Description
"Croucher, Jumper, sweet face bumper.... Stealthy creeper, armchair sleeper..."  This adorable sampler is dedicated to anyone who loves cats. If I had a choice between a cat and a dog, I would probably first choose a cat. A cat is not so likely to follow you around or do what you say. It's the kind of animal that is both loving and independent. In this original sampler, you can see a scene showing a number of differently coloured cats. It was impossible to put all the cat breeds in one sampler, so I chose to create a tribute to cats in general. I can imagine that your particular cat may not be among the cats on this sampler, so do feel free to change the colouring of one of the cats to suggest the coat and color of your own precious pet. The verse is part of a much longer verse I found without an author, but I made sure only to include a short few lines to respect copyright. If you can think of another verse or saying, feel free to substitute wording you might like better. At the very top shows the catnip flower planted in a clay pot. The cats shown at the top panel are playing with a ball of red yarn, and the lower scene is more restful, although the Siamese really wants to check out the goldfish. We have included an alternately charted wording to pluralize the word 'CAT' . A gorgeous Hardanger panel at bottom, and some green natural pearls enhance the lacy bands. I dedicate this sampler to all the cats in our lives, past as well as current or future. I hope you enjoy stitching this sampler for yourself or a cat lover, with love in your heart. 
Design area: 60w x 176h (4.3" wide x 12.6" high)
Model: 28ct Cashel Linen - Raw Linen
Cut fabric: 11" wide x 19" high for framing OR finishing
Suggested Materials
Gloriana silk #172 "Arroyo" - taupes med
Kreinik Mori #3017 - red
Kreinik Mori #6114 - fuchsia lt
Kreinik Mori #8000 - white
Needlepoint Inc. #252 - green lt
Needlepoint Inc. #548 - green dk
Needlepoint Inc. #763 - sable med
Needlepoint Inc. #893 - lilac
Needlepoint Inc. #967 - grey brown vy dk
Needlepoint Inc. #982 - taupe med
Gloriana silk #066 "Highland Garden" - multi
Kreinik Mori #5093 - blue
Kreinik Mori #8050 - black
Kreinik Mori #8055 - grey dk
Needlepoint Inc. #402 - green med
Needlepoint Inc. #473 - yellow
Needlepoint Inc. #754 - rose pink
Needlepoint Inc. #761 - sable lt
Needlepoint Inc. #765 - sable dk
Needlepoint Inc. #981 - cream
Mill Hill seed bead #00161 - clear
SW Fresh Water Pearl bead - spring green
Zweigart 28ct Cashel Linen - Raw Linen
DMC #8 Perle Cotton #blanc - white (thick twist)
DMC #12 Perle Cotton #blanc - white (thin twist)
#24 or #26 Tapestry needle
#10 short Beading needle
 Stitches Used in this Sampler:
Cross Stitch
Cross Stitch over ONE fabric thread
Back Stitch
French Knot
Lazy Daisy Stitch
Satin Stitch Heart
Partial Single Cross Eyelet
Rice Stitch
Four-Sided Stitch
Mosaic Stitch
Bargello Hearts
Algerian Eyelet
Kloster Blocks
Partial Greek Cross
Divided Wrapped Bars with Doves Eyes
Woven Bars
---
PDF Pattern Purchase and Download Instructions
Copyright Reminder: As a quick reminder, all of our PDF patterns are copyright protected and – as with all our patterns – are not permitted to be copied or distributed. We appreciate you sharing links with your friends rather than sharing the actual PDFs :) Thank you!
Payment & Security
Your payment information is processed securely. We do not store credit card details nor have access to your credit card information.