Roll over image to zoom in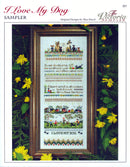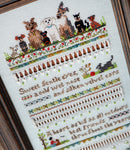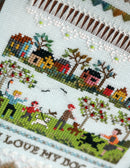 Description
"Sweet gentle eyes, a cold wet nose, and silken velvet ears. A heart as big as all outdoors. Best friends throughout the years." This adorable sampler is dedicated to anyone who loves dogs. From Lassie in my youth to stories of hero dogs as a teen, to owning a few dogs myself, dogs truly have been some of the best friends I've ever had. In this original sampler, you can see a scene showing a few dogs, both big and small. It was impossible to put all the dog breeds in one sampler, so I chose to create a tribute to dogs in general. I can imagine that your particular dog breed may not be among the dogs on this sampler, so do feel free to change the colouring of one of the dogs at the top to suggest the shape or color of your own precious pet. I had larger dogs in my life, but now I'm drawn to the smaller breeds. I made up the verse from my own experiences.. so if you can think of another verse or saying, feel free to substitute wording you might like better. The scene at the bottom is a typical dog park surrounded by a neighbourhood. It can suggest a field outside a town or a park inside the city. Just the joy of playing or training or interacting with dogs makes us happy! There are a number of specialty stitches to enjoy. There is no Hardanger, but there are three special drawn thread bands to have fun with! The beautiful Bargello at the bottom is a perfect balance with the rest of the sampler. I dedicate this sampler to all the dogs in our lives, past as well as current or future dogs. I hope you enjoy stitching this sampler for yourself or a dog lover, with love in your heart for this faithful pet, the humble dog. - Thea
Design area: 64w x 190h (4.6" wide x 13.6" high)
Model: 28ct Cashel Linen

 - Ice Blue 

Cut fabric: 11" wide  x 20" high for framing or finishing
Suggested Materials
Gloriana silk #050 "Blue Grass" - green, blue, gold

Gloriana silk #201 "Hazelnut" - tans med

Kreinik Mori #0103 - flesh

Kreinik Mori #0813 - taupe vy lt

Needlepoint Inc. #656 - grass green

Needlepoint Inc. #766 - golden brown dk

Needlepoint Inc. #844 - yellow

Gloriana silk #087 "Forest" - greens med dk

Kreinik Mori #3017 - red

Kreinik Mori #8050 - black

Needlepoint Inc. #124 - brick

Needlepoint Inc. #761 - tan lt

Needlepoint Inc. #973 - brown dk

Gloriana silk #053 "Granny Smith" - greens lt

Kreinik Mori #0815 - grey dk

Kreinik Mori #2063 - orange

Kreinik Mori #8000 - white

Needlepoint Inc. #564 - turquoise

Needlepoint Inc. #754 - pink

Needlepoint Inc. #972 - taupe med

Mill Hill seed bead #02066 - apple green

MIll Hill seed bead #03049 - red

Zweigart 28ct Cashel Linen - Ice Blue

DMC #8 Perle Cotton - White

DMC #12 Perle Cotton - White

#24 Tapestry needle

#26 Tapestry needle

#10 short beading needle
Stitches Used in this Sampler:

Cross Stitch

French Knot

Cross Stitch over ONE fabric thread

Back Stitch

Scotch Stitch

Arrowhead Stitch

Lazy Daisy Stitch

Plain Hemstitch

Partial Diamond Eyelet

Upright Cross Stitch

Rice Stitch

Triple Cross Stitch

Modified Ermine Stitch

Double Herringbone Hemstitch

Herringbone Stitch

Satin Stitch Triangles
Eyelets
Smyrna Cross Stitch
Mosaic Stitch
Bargello
---
PDF Pattern Purchase and Download Instructions
Copyright Reminder: As a quick reminder, all of our PDF patterns are copyright protected and – as with all our patterns – are not permitted to be copied or distributed. We appreciate you sharing links with your friends rather than sharing the actual PDFs :) Thank you!
Payment & Security
Your payment information is processed securely. We do not store credit card details nor have access to your credit card information.