Roll over image to zoom in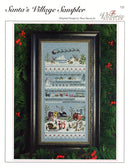 Description
It's Christmas eve, such a magical night - As Santa and reindeer prepare for their flight...  His sleigh and huge sack filled with more than just toys... They hold love, peace, contentment, and true Christmas joys.  When I was a child I learned that Santa lives at the North Pole with Mrs. Claus, his reindeer and his elves, and that he brings goodies and toys to all good little boys and girls on Christmas eve. It sounded so beautiful to me as I pictured it in my mind... a village where Santa lived! I finally thought I might depict this childhood vision in stitches. At the top of this sampler you can see Santa's sleigh flying across the northern sky over the icebergs and over the natural tundra where reindeer live. I was going to add some polar bears, but there just wasn't the room! There are some pine and fir trees pictured as I remember my child's version. Below this scene is a nice band of white lace, and then begins my verse accompanied by little scenes of snowmen, trees and little forest creatures. Another band of lace, and you see some of the toys that Santa might have in his bag.. toys the elves have built of course! There's a doll carriage, a sailboat, a doll, a top, some wrapped presents and a toy train. Then the last part of the verse, and the bottom of the sampler shows the entire village.. just as I saw it in my child's imagination. Santa is looking over his list, as Mrs. Claus is wishing him a good journey, giving him a few last minute warnings about the weather and what dangers to watch out for. She worries about him on these yearly journeys! The elves are feeding the reindeer so they are strong and they are looking forward to their journey. They've been training all year and they are anticipating all the happy boys and girls this evening as they make their way on their whirlwind trip around the world. This is a sampler of childhood joys and memories.. and I hope they remind you of yours. As you stitch this sampler, you will encounter some simple specialty stitches, like diamond eyelets, smyrna crosses, lazy daisies, and others. Just go to the back of the leaflet to see the diagrams. I hope you enjoy stitching your memories of Santa Claus!
Design Area: 96w x 219h (6.85" wide x 15.6" high)
Model: 28ct Cashel Linen - Misty Blue OR Smokey Pearl:
Cut fabric: 13" wide x 22" high)
Suggested Materials
Gloriana silk #117 "Elizabethan Green" - greens dk - 2 yds
Gloriana silk #172 "Arroyo" - grey browns - 2 yds
Kreinik Mori #0523 - grey - 1 yd
Kreinik Mori #0923 - yellow - 2 yds
Kreinik Mori #5055 - blue med - 1.5 yds
Kreinik Mori #6126 - antique lavender - 1 yd
Kreinik #4 Braid #002 - metallic gold - 2.5 yds
Needlepoint Inc. #0402 - grass green - 1 yd
Gloriana silk #206 "Olivine" - olive greens med - 1 yd
Kreinik Mori #0103 - flesh - 1 yd
Kreinik Mori #0553 - blue med lt - 1 yd
Kreinik Mori #0733 - yellow lt - 1 yd
Access Au ver a Soie #3334 - purple med - 2 yds
Needlepoint Inc. #0155 - blue green dk - 2 yds
Needlepoint Inc. #0503 - red - 1.5 yds
Needlepoint Inc. #0967 - grey brown dk - 2 yds
Dinky Dyes #069 "Swan Valley" - blue greens med - 1 yd
Dinky Dyes #092 "Eungella" - greys - 4.5 yds
Kreinik Mori #0325 - salmon - 1 yd
Kreinik Mori #8050 - black - 3.5 yds
Needlepoint Inc. #0126 - brick red dk - 1 yd
Needlepoint Inc. #0324 - blue dk - 1 yd
Needlepoint Inc. #0974 - brown - 1 yd
Mill Hill seed beads #00557 - gold
Tiny heart beads - red
Kreinik Mori #8000 - white (5 - 5 yard skeins)
Zweigart 28ct Cashel Linen - Smoky Pearl OR Misty Blue
DMC #8 Perle Cotton (thick twist) - white
DMC #12 Perle Cotton (thin twist) - white
#24 tapestry needle
#10 short beading needle
Stitches used in this Sampler:
Cross Stitch
Lazy Daisy Stitch
Eyelet Stitch
Diamond Ray Stitch
Cross Stitch over ONE fabric thread
French Knot
Satin Stitch triangles
Diamond Eyelet
Smyrna Cross 

---
PDF Pattern Purchase and Download Instructions
Copyright Reminder: As a quick reminder, all of our PDF patterns are copyright protected and – as with all our patterns – are not permitted to be copied or distributed. We appreciate you sharing links here with your friends rather than sharing the actual PDFs :) Thank you!
Payment & Security
Your payment information is processed securely. We do not store credit card details nor have access to your credit card information.