Roll over image to zoom in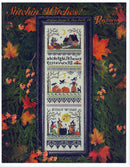 Description
Wooooo.... These Stitchin' Witches are stirring up a wicked brew of crows and bats and cat's whiskers! What could be more fun than combining stitching with these colourful and cackling Hallowe'en Witches? Just look at the top of the sampler, where one of our witches in residence is stitching her quilt of orange and black while bats fly overhead under the new moon. Our Witches live in a cottage in the woods, surrounded by pumpkins and gnarled old trees, and the black lace really sets off each of the panels. Specialty stitches with wonderful colour combinations are found throughout. The middle panel shows another Stitchin' Witch all in a muddle.. crows are stealing her precious black silk, and she's vainly trying to remember a spell to stop the thievery! Then more black lace, and some perfectly round tiny orange buttons and the bottom panel appears. The moon is full, and now our witches are sitting around their bubbling cauldron as they stitch. Who says a watched pot never boils..? A wonderful deep band of black lace gives the next specialty stitch bands a wonderful setting! This sampler was inspired by a group of stitching friends who call themselves the Stitchin' Witches. I met them in a retreat many years ago and their fun was contagious! You can stitch the smaller panels by themselves, or stitch the whole fabulously colourful Witchy and Stitchy sampler to hang on your walls for Halloween! - Thea
Design area: 249h x 72w (17.8" high x 5.1" wide)
Model: 28ct Cashel Linen - Summer Khaki 
Cut fabric: 24" high x 11" wide for finishing
Suggested Materials
Gloriana silk #053 "Granny Smith Green" - lt
Kreinik Mori #2063 - pumpkin lt
Kreinik Mori #6083 - purple
Needlepoint Inc. #304 - red brown
Needlepoint Inc. #473 - yellow
Needlepoint Inc. #967 - grey brown vy dk
Gloriana silk #066A "Highland Garden Dark" - multi
Gloriana silk #117 "Elizabethan Green" - dk
Kreinik Mori #0113 - flesh
Needlepoint Inc. #556 - bright orange
Needlepoint Inc. #721 - pumpkin vy dk
Needlepoint Inc. #964 - grey brown med
Gloriana silk #87 "Forest" - greens med
Kreinik Mori #2016 - gold
Kreinik Mori #2066 - pumpkin med
Kreinik Mori #3017 - red
Kreinik Mori #7024 - tan
Needlepoint Inc. #974 - brown dk
SJ Designs petite beads #1809 - green lt
SJ Designs petite beads #1844 - lavender pearl
SJ Designs petite beads #1871 - midnight iris
SJ Designs seed beads #1102 - black
Mill Hill seed beads #2033 - orange
Specialty buttons micro mini round - orange  
Kreinik Mori #8050 - black (3 - 5 yard skeins)
Zweigart 28ct Cashel Linen - Summer Khaki
#24 Tapestry needle
#10 short Beading needle
Stitches Used in this Sampler:

Cross Stitch
Cross Stitch over ONE fabric thread
Back Stitch
Herringbone Stitch
Tied Rhodes Stitch
Modified Smyrna Cross Stitch
Plaited Stitch
Tied Cross Stitch
Partial Rhodes Stitch
Captive Triple Cross Stitch
Foliage Stitch
Algerian Eyelet
Satin Stitch Scallops
---
PDF Pattern Purchase and Download Instructions
Copyright Reminder: As a quick reminder, all of our PDF patterns are copyright protected and – as with all our patterns – are not permitted to be copied or distributed. We appreciate you sharing links with your friends rather than sharing the actual PDFs :) Thank you!
Payment & Security
Your payment information is processed securely. We do not store credit card details nor have access to your credit card information.