Roll over image to zoom in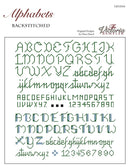 Description
Get two wonderful backstitched alphabets for you to use when you want to personalize any of our designs, or change the wording in any of our samplers!
We recommend that you use backstitching or double running stitches for both of them, as well as Cross Stitch for the bottom chart. On 28ct fabric, you may want to use 2 strands of floss for the Cross Stitches, and one strand of floss for the Back Stitches. Use any colour of floss you like, including overdyes. Just make sure that you can see all parts of the letters. Always make sure the floss you use contrasts sharply from your linen, because it is confusing when the viewer tries to read lettering that fades away into the linen colour. I recommend that you use darker flosses on lighter linen, as opposed to using lighter flosses on darker linen. Again, easier to see on any sampler. These two backstitched alphabets should be of great use in all your Victoria Sampler sampler designs!
---
PDF Pattern Purchase and Download Instructions
Copyright Reminder: As a quick reminder, all of our PDF patterns are copyright protected and – as with all our patterns – are not permitted to be copied or distributed. We appreciate you sharing links here with your friends rather than sharing the actual PDFs :) Thank you!
Payment & Security
Your payment information is processed securely. We do not store credit card details nor have access to your credit card information.