Roll over image to zoom in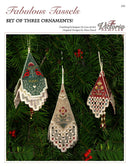 Description
Create three elegant Hardanger "Tassels" designed just for you. These shapes are so elegant and unique, you'll want to do more than one! Each Tassel has three sides stitched with overdyes and metallics and finished with a lacy Hardanger fringe... just exquisite! The Green and Gold Tassel has two overlapping skirts and the effect is just stunning. The Ruby Tassel has some delighful gold stitching on it, and the Antique Tassel is long and elegant. Stitching these are fun, quick and easy and at the back of this leaflet you'll find Lisa's excellent step-by-step finishing instructions with colour photos. Please follow her expert finishing instructions carefully to get a great result for each one! You can use this finishing method for any three dimensional tassel design, no matter how big or small it is. Just be sure to adjust the measurements of the fabric. You might want to finish stitching your ornaments all at one time, as it will be easier to complete each of the finishing steps for all similar pieces together. As a hint, you can fingerfold the edges around each piece more easily if you're using linen or linen blend fabric, but if you use a man-made evenweave fabric, you may find that you need an iron to turn the edges and keep them stable while you overcast them together. The corded hanger is added during the last step, while joining the last side together with the easy overcast stitch. You can also string a few beads (from your local craft or bead store) together to hang down inside each one to create a clapper for the bell like shapes. These lovely Tassels will look gorgeous on your Christmas Tree for years to come. - Thea
Antique Tassel
Design area for each panel: 73h x 30w (5.2" high x 2.1" wide)
Model: 28ct Cashel Linen - Raw Linen 
Cut 3 pieces of fabric: 7" high x 5" wide for finishing
Ruby Tassel
Design area for each panel: 50h x 30w (3.6" high x 2.1" wide)
Model: 28ct Cashel Linen - Ruby Wine
Cut 3 pieces of fabric: 6" high x 5" wide for finishing
Green and Gold multi-layer Tassel
Design area for each

outside

panel: 50h x 30w (3.6" high x 2.1" wide)
Model: 28ct Cashel Linen - Dk Teal Green  
Cut 3 pieces of fabric: 6" high x 5" wide for finishing
Design area for each

inside

panel: 54h x 30w (3.85" high x 2.1" wide)
Model: 28ct Cashel Linen - Cream 
Cut 3 pieces of fabric: 6" high x 5" wide for finishing
Suggested Materials
Gloriana silk #050 "Blue Grass" - multi blue, green, gold  3 yards
Kreinik Mori #0103 - flesh  1 yard
Kreinik Mori #2014 - yellow  1 yard
Kreinik Mori #4046 - green dk  1 yard
Kreinik Mori #8000 - white  1 yard
Kreinik #4 Braid #421 - metallic red  4 yards
Kreinik #4 Braid #684 - metallic turquoise  3 yards
Gentle Art Simply Wool "Cranberry" - reds dk  4 yards
Kreinik Mori #0712 - cream  3 yards
Kreinik Mori #1114 - red  2 yards
Krenik Mori #2016 - yellow dk  1 yard
Kreinik Mori #8050 - black  1 yard
Kreinik #4 Braid #002 - metallic gold  6 yards
Mill Hill seed bead #00557 - gold  70 beads
Mill Hill seed bead #00479 - white  30 beads
Mill Hill seed bead #03050 - champagne  30 beads
SJ Designs petite bead #1818 - silver  100 beads
DMC #8 Perle Cotton #712 - cream (thick twist)
DMC #12 Perle Cotton #712 - cream (thin twist)
DMC #8 Perle Cotton #blanc - white (thick twist)
DMC #12 Perle Cotton #blanc - white (thin twist)
#24 Tapestry Needle
#10 Short Beading Needle
Stitches used in the three Tassel Ornaments:
Cross Stitch
Satin Stitch Heart

Modified Dutch Stitch
Bargello Wave
Lazy Daisy Stitch
Herringbone Stitch
Partial Diamond Eyelet
Kloster Blocks
Blanket Stitch
Algerian Eyelet
Wrapped Bars with Dove's Eye
Partial Greek Cross
Woven Bars with Dove's Eye
Satin Stitch Triangle
Cross Stitch over ONE fabric thread
Rhodes Heart
---
PDF Pattern Purchase and Download Instructions
Copyright Reminder: As a quick reminder, all of our PDF patterns are copyright protected and – as with all our patterns – are not permitted to be copied or distributed. We appreciate you sharing links here with your friends rather than sharing the actual PDFs :) Thank you!
Payment & Security
Your payment information is processed securely. We do not store credit card details nor have access to your credit card information.