Roll over image to zoom in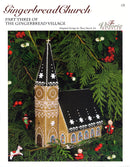 Description
Part three of the Gingerbread Village Series  This beautiful Gingerbread Church is the latest addition to a whole Gingerbread Village which I will continue to create over the coming years. Just like the Gingerbread House and Gingerbread Tree Etui, this year's figure is stitched on a Gingerbread coloured linen. However, this time you can decide to use black linen for the roofs, or substitute the same linen as for the Gingerbread walls. You will be stitching with delectable silk flosses, Perle Cottons, sparkling beads and delicious looking 'candy' snow buttons. Unlike the first two pieces, this building is not lined, which makes finishing easier and faster! The delicious fragrant Gingerbread Church is dripping with icing, has glowing windows, and lots of decorative candies to welcome the hungry visitor. Lisa's "Beautiful Finishing" instructions are included at the end of this leaflet. This year, place all three pieces including the completed Gingerbread Church, your Gingerbread House and your Gingerbread Tree Etui, on your mantle for the Holidays! You can also place it beside your Stitching Chair to give you some extra Christmas cheer as you stitch your last minute ornaments. Look for more Gingerbread Village additions in future years! Sending all of you a delicious and Merry Christmas and a Happy New Year from my house to yours! -Thea
Church Back and Front
Design Area : 50w x 78h (3.6" wide x 5.6" high)
Model: 28ct Cashel Linen - Antique Almond:
Cut 2 pieces of fabric: 6" wide x 8" high for finishing
Church - Two Sides
Design Area : 70w x 28h (5" wide x 2" high)
Model: 28ct Cashel Linen - Antique Almond:
Cut 2 pieces of fabric: 7" wide x 4" high for finishing
Church Steeple - all Four Sides
Design Area: 20w x 88h (1.4" wide x 6.3" high)
Model: 28ct Cashel Linen - Antique Almond:
Cut 4 pieces of fabric: 3.5" wide x 8.5" high for finishing
One Steeple Base (optional)
Design Area: 20w x 20h (1.4" wide x 1.4" high)
Model: 28ct Cashel Linen - Antique Almond:
Cut fabric: 3.5" wide x 3.5" high for finishing
One Church Base (optional)
Design Area: 58w x 56h (4.1" wide x 4" high)
Model: 28ct Cashel Linen - Antique Almond:
Cut fabric: 7" wide x 7" high for finishing
Black Steeple Roof all Four Sides
Design Area: 20w x 56h (1.4" wide x 4" high)
Model: 28ct Cashel Linen - Black:
Cut 4 pieces of fabric: 3.5" wide x 6" high for finishing
Black Church Main Roof Two Sides
Design Area: 72w x 58h (5.1" wide x 4.1" high)
Model: 28ct Cashel Linen - Black:
Cut 2 pieces of fabric: 7" wide x 6" high for finishing
To Buy enough LINENS for the whole Church...
Cut Antique Almond linen 14"w x 27.5"h and
Cut Black Cashel linen 7"w x 26"h
Click on suggested Fabric pieces LAYOUT Here
_____________________________________________________________
Suggested Materials
Gloriana silk #087 "Forest" - greens
Kreinik #4 Braid #002 metallic - gold
Kreinik Mori #3063 - orange
Kreinik Mori #4044 - turquoise
Needlepoint Inc. #0473 - yellow
Needlepoint Inc. #0974 - brown
Kreinik Mori #4216 - olive green dk
Kreinik Mori #6104 - mauve
Needlepoint Inc. #0113 - blue
Access Au ver a Soie #2516 - cinnamon
Access Au ver a Soie #2924 - red
SJ Designs 2mm pearl beads - white
Mill Hill seed bead #00557 - gold
Micro Mini Round Buttons - white
Snowflake Buttons - white (DISCONTINUED)
Charm Cross - 1 gold 
Kreinik Mori #8000 - white (3 - 5 yard skeins)
DMC #8 Perle Cotton (thick twist) - white
DMC #12 Perle Cotton (thin twist)- white
Zweigart 28ct Cashel Linen - Antique Almond 
28ct Cashel Linen - Black 
#24 tapestry needle
#10 short beading needle
Stitches used in this Sampler:
Cross Stitch
Back Stitch
Rhodes Stitch
Partial Eyelet
Satin Stitches
Arrowhead Stitch 
Diamond Eyelet
Beadwork
---
PDF Pattern Purchase and Download Instructions
Copyright Reminder: As a quick reminder, all of our PDF patterns are copyright protected and – as with all our patterns – are not permitted to be copied or distributed. We appreciate you sharing links here with your friends rather than sharing the actual PDFs :) Thank you!
Payment & Security
Your payment information is processed securely. We do not store credit card details nor have access to your credit card information.