Roll over image to zoom in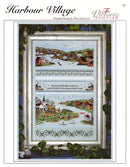 Description
"The peace of the hills is about me, and the leisure of the summer clouds is mine..."
This fresh summer sampler embodies all that we love about living life near the water. It seems to have grown out of my own subconscious as most of my life has been spent near one harbour or another. Even now I am lucky enough to enjoy a wonderful view over the ocean and the village of Sidney, and I never tire of looking at it, especially as I'm stitching. The top of Harbour Village Sampler shows colourful little houses nestled on the banks of a river or inlet. The fishing pier and canneries, the little boats and kayaks are out on a beautiful summer day. On the distant horizon you can see the snow capped mountains. I love the idealized view of this make-believe town along the inlet, and am even reminded of the view at the lake where I used to spend my holidays. In the middle there are a few bands, like the satin waves, blue forget-me-knots, and some drawn thread in varying shades of blue to enhance the summertime feeling. John Burroughs in his essay entitled "The Circuit of the Summer Hills" provided a perfect quote for the middle of this sampler. However, you can easily change these words to suit your own circumstances! Near the bottom of the sampler, you'll see the 'village green' alive with the people of the town. They are gathered at a summertime barbeque picnic.The kids are playing, moms and dads are chatting and enjoying their outing. Such a happy scene, one we live throughout the summer, especially on national holiday weekends! The lighthouse on the opposite shore and the church at the far left each provide their symbolic 'safe harbour' for all the people in the village. At the bottom you'll find the last few bands, including a luscious floral band, again in blues, to complete the feeling of summer life and abundance. Like it's companion Christmas Village Sampler, this sampler can be easily stitched in parts, and can be separated for various smaller enjoyable projects. Enjoy all or parts of this sampler to keep your summer alive all year round... - Thea
*Ooops... Sorry to inconvenience a few stitchers who may not know what to do with the little apple tree in the scene at the bottom of the sampler. Here is the diagram for the Special Symbols for the tiny apple tree. It is missing from our first test run. Harbour Village Sampler Fabric
Design Area: 224h x 140w (16" high x 10" wide)
Model: 28ct Cashel Linen - Rue Green 
Cut fabric: 22" high X 16" wide 
Suggested Materials
Gentle Art "Maple Syrup" - multi browns dk
Gentle Art "Buckeye Scarlet" - red med
Kreinik Mori #0523 - grey
Kreinik Mori #4204 - green lt
Kreinik Mori #5055 - blue dk
Kreinik Mori #7124 - cream
Gentle Art "Harvest Basket" - multi browns med
Kreinik Mori #0103 - flesh
Kreinik Mori #0553 - blue med
Kreinik Mori #4206 - green med
Kreinik Mori #6112 - pink lt
Needlepoint Inc. #771 - yellow
Gentle Art "Nutmeg" - copper
Kreinik Mori #0325 - salmon
Kreinik Mori #0634 - antique mauve dk
Kreinik Mori #4216 - green dk
Kreinik Mori #6116 - pink med
Access Au ver a Soie #3843 - ash grey dk
Gentle Art "Mulberry" - brick reds dk
Kreinik Mori #0433 - olive vy lt
Kreinik Mori #4166 - blue green
Kreinik Mori #6083 - purple dk
Kreinik Mori #7087 - gold dk
Needlepoint Inc. #402 - grass green
Needlepoint Inc. #561 - blue lt
SJ Designs 2mm pearl beads - white
SJ Designs petite bead #1876 - blue
SJ Designs petite bead #1809 - apple green
Kreinik Mori #8050 - black - 1 1/2 skeins
Kreinik Mori #8000 - white - 1 1/2 skeins
Zweigart 28ct Cashel Linen - Rue Green 
Black and White Floss - buy our White and Black Floss Acc Pack!
DMC #8 Perle Cotton - white
DMC #12 Perle Cotton - white
#24 Tapestry Needle
#10 short Beading Needle
Stitches used in this Sampler:
Cross Stitch
Cross Stitch over ONE fabric thread
Backstitch
Straight Stitch
Beadwork
Interlaced Beaded Hemstitch
French Knots
Satin Stitches
Lazy Daisy Stitches
Modified Smyrna Cross
Triple Rice Stitch
Herringbone Hemstitch
Herringbone Stitch 
Bargello Wave
---
PDF Pattern Purchase and Download Instructions
Copyright Reminder: As a quick reminder, all of our PDF patterns are copyright protected and – as with all our patterns – are not permitted to be copied or distributed. We appreciate you sharing links here with your friends rather than sharing the actual PDFs :) Thank you!
Payment & Security
Your payment information is processed securely. We do not store credit card details nor have access to your credit card information.