Roll over image to zoom in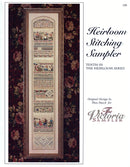 Description
"Grandma loved her fancywork and passed it on to me. My daughter found her needleart at my dear mother's knee. Our love and lives are intertwined for all of us to see. The threads with which I stitch today connect our family" - Thea 
This 10th addition to the Heirloom Sampler Series celebrates our love of stitching, as well as the bond stitching forms in our families, as it's passed on through the years. Needlework was passed from mother to daughter, from grandmother to granddaughter in those loving quiet moments of yesteryear. I hope you also feel the love and connection with your own mothers, aunts and grandmothers and all the stitchers that came before you as you create this exquisite heirloom for your own family. The top Alphabet and floral motif set the 'tone' of the sampler, and they are followed by lovely specialty stitch bands to showcase the stitcher's skill. I've included over 38 specialty stitches in this sampler, along with clear instructions and diagrams! The three domestic scenes depict stitchers of the various times in history. The top scene shows a colonial scene with a spinning wheel and various members of the household engaged in the necessary tasks. The middle scene shows a 'forties' living room, and finally our modern times are depicted with men and children with our stitchers. This design will become an Heirloom prized by all your family and their descendents! Stitch it for yourself, and evoke a special connection with your own family of stitchers! - Thea
Design area: 434h x 64w (31"h x 4.6"w)
Model: 28ct Cashel Linen - Raw Linen 
Cut fabric: 37" high x 11" wide)
Another version of the verse could give people more options:
"My Aunt (Sister, etc) loved her fancywork and passed it on to me. I practiced well my needleart and share it all with thee. Our love and lives are intertwined for all of us to see. The threads with which I stitch today connect our family" - Thea 
Suggested Materials

Kreinik #4 braid - #102 - vatican gold (1 spool)
Au ver a Soie/Soie Perlee #550 grey green - 2 yards
Gloriana Silk Floss - #178 "Mocha" - 1.5 yards
Gloriana Silk Floss - #116 "Olive Grove" - 2 yards
Gentle Art - Sampler T. - Tarnish Gold - 3 yards
Gentle Art - Sampler T. - Antique Rose - 2 yards
Au ver a Soie/Soie D'alger #3412 - tan lt - 1 yards
Needlepoint Inc. #0923 - grey blue med - .5 yards
Caron Collection "Waterlilies" #155 - "Steel" - 1.5 yards
Gloriana Silk Floss - #172 "Arroyo" - 3 yards
Gloriana Silk Floss - #117 "Elizabethan Green" - 2 yards
Gentle Art - Sampler T. - Harvest Basket - 2.5 yards
Kreinik Mori #7124 - cream - 9 yards
Needlepoint Inc. #0714 - wine red - 1.5 yards
Needlepoint Inc. #0972 - taupe - 1yard
Gloriana Silk Floss - #045 "Lacquered Gold" - 1 yard
Gloriana Silk Floss - #046 "Fallen Leaves" - 1 yard
Au ver a Soie/Soie D'alger #3826 - golden brown dk - 1 yard
Needlepoint Inc. #0121 - flesh - 2 yards
Needlepoint Inc. #0126 - brick red dk - 1.5 yards
Needlepoint Inc. #0755 - pink med dk - 1 yard
Needlepoint Inc. #0925 - grey blue dk - 1 yard
Needlepoint Inc. #0964 - grey brown - 2 yards
Needlepoint Inc. #0966 - grey green dk - 4 yards
SJ Designs petite beads #1859 - silver - 100
SJ Designs petite beads #1856 - opal - 50
SJ Designs petite bead #1816 - clear gold - 75
SJ Designs petite beads #18104 - dusty rose - 100
Mill Hill seed beads #00123 - cream - 25
Access Commodities Aventurine Heart bead - green - 2
Access Commodities Mother of Pearl heart bead - white - 4
Zweigart 28ct Cashel Linen - Raw Linen 
DMC #8 Perle Cotton - ecru
DMC #12 Perle Cotton - ecru
#24 tapestry needle
#10 short beading needle
Stitches used in this Sampler:
Cross Stitch
Cross Stitch over ONE fabric thread
Backstitch
Satin Stitch Heart
Satin Stitch Triangles
Diamond Eyelets
Lazy Daisy
Herringbone Stitch

Scotch Stitch
Arrowhead Stitch
Elongated Queen Stitch
Smyrna Cross
Double Leviathan
Four-Sided Stitch
Square Eyelet
Herringbone Hemstitch
Partial Rhodes Stitch
Modified Double Cross Stitch
Bargello Wave
Norwich Stitch
Ray Stitch
Quodlibet Stitch
Jacobean Couching Stitch
Kloster Blocks
Woven Bars
Dove's Eyes
Modified Triple Rice Stitch
French Knot
Algerian Eyelet
Rice Stitch Elongated
Smyrna Cross Elongated
Running Stitch
Satin Stitch Pins
Double Herringbone Stitch
Greek Crosses
---
PDF Pattern Purchase and Download Instructions
Copyright Reminder: As a quick reminder, all of our PDF patterns are copyright protected and – as with all our patterns – are not permitted to be copied or distributed. We appreciate you sharing links with your friends rather than sharing the actual PDFs :) Thank you!
Payment & Security
Your payment information is processed securely. We do not store credit card details nor have access to your credit card information.