Roll over image to zoom in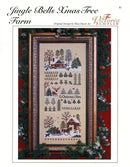 Description
O, Christmas Tree! Here is the second design in my "Small Farm Series". :) There are so many wonderful small family farms near my home, and over the years I've wanted to stitch some of them into samplers. I designed this as a companion to Ravenhill Farm, my second small farm sampler. I've designed these farms in the same style as the small Victorian Garden Samplers, except that they are wider and larger. There is a wonderful Tree Farm only a few miles from my house, and I just love to see their colourful cart parked at the entrance to their drive, inviting families to come and get their Christmas tree. The layout of the farm is different, and our snow is only here for a day or two, but it's just as cosy as the Christmas Tree farms you see in your 'neck of the woods'! These folks help us enjoy the scent of pine or balsam in our living rooms, without harming our forests. At the top of the sampler you'll see a log cabin covered with sparkling lights and glowing windows, a myriad of different trees, cardinals flying hither and yon are all part of the charm. The chickadees perch in the birch trees, as the sleigh bells ring, are you listening!? The Jingle Bell Farm exists in my imagination along with all the childhood memories and wishes that go along with Christmas. I've included many specialty stitches in the center tree farm area, and enjoyed sprinkling the entire scene with snowy specialty stitches! Parts of this design can be stitched separately, and can be used in many different ways. Just like in the Ravenhill farm Cross Stitched scenes, the top and bottom scenes are both wonderful as stand-alone designs, perhaps adding words using a petit alphabet to spell out Merry Christmas, or My heart is home for Christmas. The wee trees are so suitable for that special "Christmas Memory Book" or stitched up quickly for your homemade Christmas Cards. Many motifs can easily be stitched into Christmas Ornaments or Gift Bags. I'm sure your imagination can supply lots more uses for the different elements of this cheerful sampler. Perhaps you can make the lower part of this sampler into a stocking!
Background colour: You may notice there are photos of the same design stitched on two different colours of linen. Originally I stitched my model on the Putty coloured linen to match the Ravenhill Herb Farm.. However, I very much wanted to see how the snow would look on the Smokey Pearl linen I used for the Winter Garden sampler. So, after mine was finished, Lisa laid out the pattern, and sent it to our new stitcher, Linda B. Linda stitched the top, and cover model on Smokey Pearl linen, and we're so delighted with it that we used it for our the leaflet cover model.. thank you Linda for stitching it so quickly!! :) Now you get to see the two different background colours.. and choose for yourself, which one you'd like- Personally, I like the way the white snow really stands out on the grey colour, but I love the rustic hominess of the putty colour too.. !! Merry Christmas! - Thea
Design Area: 179h x 72w (12.75 high x 5.1 wide)
Model: 28ct Cashel Linen - Smokey Pearl or Putty
Cut fabric: 19" X 11" for framing 
Suggested Materials
Gloriana silk #117 "Elizabethan Green" - olive greens dk - 2.5 yd
Gentle Art "Maple Syrup" - multi browns/blacks - 5 yd
Gentle Art "Brethern Blue" - teals dk - 2 yd
Au ver a Soie #3421 - platinum (beige) - 1 yd
Kreinik #4 Braid #032 - white - 5 yd
Kreinik Mori #4167 - green dk - 2.5 yd
Kreinik Mori #8050 - black - 2 yd
Needlepoint Inc. #0126 - brick red - 1 yd
Needlepoint Inc. #0974 - grey brown med lt - 0.5 yd
Gloriana silk #045 "Lacquered Gold" - golds - 0.5 yd
Gloriana silk #050 "Blue Grass" - multi blue, green, gold - 1 yd
Caron Waterlilies #121 "Evergreen" - multi blue greens med lt - 1.5 yd
Kreinik Mori #0103 - flesh - 0.5 yd
Au ver a Soie #4624 - red - 1 yd
Needlepoint Inc. #0955 - golden brown med - 1.5 yd
Needlepoint Inc. #0964 - grey - 1.5 yd
Kreinik Mori #4206 - olive green med lt - 1 yd
Au ver a Soie #1745 - teal med - 1 yd
SJ Designs petite bead #1818 - clear silver
SJ Designs petite bead #1813 - red
SJ Designs petite bead #1809 - apple green
SJ Designs seed bead #11021 - green iris vy dk
SJ Designs seed bead #11114 - bronze iris
SJ Designs seed bead #11005 - white
Mill Hill seed bead frosted #60168 - blue
Mill Hill petite bead #40557 - gold
Sequins Stars - gold
Kreinik Mori #8000 - white
28ct Cashel Linen - Smoky Pearl or Putty 
DMC #12 Perle Cotton white
DMC #8 Perle Cotton white
#24 Tapestry Needle
#10 short Beading Needle
Stitches used in this Sampler:
Cross Stitch over two
Cross Stitch over one
Backstitch
Straight Stitch
Beadwork
French Knots
Colonial Knots
Herringbone
Queen Stitch
Smyrna Cross Stitch
Modified Smyrna
Partial Rhodes Stitch
Partial Diamond Eyelet
Plait Stitch
Diamond Ray Stitch
Smyrna Rice Stitch
Star Stitch
Satin Stitch
Oblong Cross
---
PDF Pattern Purchase and Download Instructions
Copyright Reminder: As a quick reminder, all of our PDF patterns are copyright protected and – as with all our patterns – are not permitted to be copied or distributed. We appreciate you sharing links with your friends rather than sharing the actual PDFs :) Thank you!
Payment & Security
Your payment information is processed securely. We do not store credit card details nor have access to your credit card information.