Roll over image to zoom in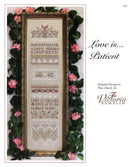 Description
"Love is patient, love is kind and is not jealous; love does not brag and is not arrogant, does not act unbecomingly; it does not seek its own, is not provoked, does not take into account a wrong suffered, does not rejoice in unrighteousness, but rejoices with the truth; bears all things, believes all things, hopes all things, endures all things. Love never fails." - 1 Cor 13:4-8   Stitch this gorgeous antique looking Sampler for your next Wedding or other special celebration! Elegant and timeless, yet full of modern touches, this is a celebration sampler that anyone would want to display in their home with joy. Love is the inspiration for this Sampler, and I used only a portion of the famous quote from the bible as there are so many different versions. In this sampler you find bands of specialty stitches, some flowers, and snowy white Hardanger lace, as well as an alphabet or two for personalizing. At the top you'll find a Bargello Heart blooming out of a pineapple vase, a symbol of hospitality and generosity. Below a panel of lace, and then the capital letters of the alphabet used below. Some delicate specialty stitches and a lovely band of heart flowers, symbolic of our love for one another. A special frame with names follows. If your recipient's names are too long, just add a 'repeat' of the border to accomodate another line of lettering. Then some more panels, including more heart flowers echoed all through this sampler. Finally at the bottom is a special panel of lace, which even includes a heart shape picked out in partial greek crosses. This has been a labour of love for me so I hope you'll love it as much as I do. Personalize with the enclosed alphabet to stitch this beautiful sampler for a very special couple about to get married, or for a new baby, a birthday person, a recent proud graduate, or for yourself as an anniversary sampler! - Thea
Design area: 293h x 64w (20.9" high x 4.6" wide)
Model: 28ct Cashel Linen - Raw Linen
Cut fabric: 27" high x 11" wide for framing
Suggested Materials

Kreinik #4 Braid #102 metallic - vatican gold
Gloriana silk #172 "Arroyo" - multi greys
Gloriana silk #046 "Fallen Leaves" - multi
Needlepoint Inc. #0143 - rose dk
Needlepoint Inc. #0972 - taupe
Dinky Dyes "Natural" - white
Kreinik Mori #7024 - tan
Needlepoint Inc. #0931A - rose lt
Needlepoint Inc. #0981 - platinum
Mill Hill petite bead #40479 - white
SJ Designs petite bead #1859 - silver
SJ Designs 2mm pearl bead - ivory
Access Mother of Pearl rice bead 
Access Soie Perlee - cream (1 - 16m spool)
DMC #12 Perle Cotton #712 - cream
Zweigart 28ct Cashel Linen - Raw Linen
#24 tapestry needle
#10 short beading needle
Stitches used in this Sampler:
Cross Stitch
Cross over ONE fabric thread
Backstitch
Satin Stitch Heart
Bargello Heart
Smyrna Cross
Satin Stitch
Partial Reversed Cushion Stitch
Partial Eyelet
Rhodes Heart
Satin Stitch Triangles
Arrowhead Stitch
Double Running Stitch
Reversed Cushion Stitch
Algerian Eyelet
Four-Sided Stitch
Partial Diamond Eyelet
Broad Cross
Partial Rhodes Stitch
Diamond Eyelet
Lazy Daisy
Plait Stitch
Herringbone Stitch
Alicia's Lace
Kloster Blocks
Divided Wrapped Bars
Woven Bars
Dove's Eye
Partial Greek Cross  

---
PDF Pattern Purchase and Download Instructions
Copyright Reminder: As a quick reminder, all of our PDF patterns are copyright protected and – as with all our patterns – are not permitted to be copied or distributed. We appreciate you sharing links with your friends rather than sharing the actual PDFs :) Thank you!
Payment & Security
Your payment information is processed securely. We do not store credit card details nor have access to your credit card information.