Roll over image to zoom in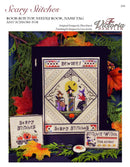 Description
Beware! This Witch Trio's spell book contains some really Scary Stitches! When you look in the Needlebook, you'll practice some of them, like the 'Whipped Chain Stitch' and the 'Diamond Eyeball' stitches and more! This design will increase your own stitch repertoire, as you learn three pesky knots, some challenging 'crossed' stitches, hemstitching, and even the 'Evil Queen'! The design on the front of the 'book' box is fun and colourful, bringing back our Stitchin Witches, as they cackle and stitch some of your favorite evil stitches. Love the pumpkin button on the front, the Satin Stitched sawtooth bands, and the tiny black buttons to match the black creepy spider webs. In this pattern you'll also find directions to make a Bullion Knot pumpkin for the Scissors Fob, a cute needlebook, and your Stitchin Witch Nametag. I really hope you'll love this stitched book of "Scary Stitches" -Thea

Design Area for Box Front: 78w x 102h (5.6" wide x 7.3" high)
Model: 28ct Cashel Linen - Clay:
Cut fabric: 11" wide x 13" high for finishing
Design Area for Needlebook Cover: 92w x 44h (6.6" wide x 3.1" high)
Model:

 

28ct Cashel Linen -

 

Clay:
Cut fabric: 11" wide x 6" high for finishing
Design Area for Needlebook Page: 92w x 44h (6.6" wide x 3.1" high)
Model:

 

28ct Cashel Linen -

 

Clay:
Cut fabric: 11" wide x 6" high for finishing
Design Area for Nametag: 50w x 25h (3.6" wide x 1.8" high)
Model:

 

28ct Cashel Linen -

 

Clay:
Cut fabric: 6" wide x 5" high for finishing
Design Area for Scissor Fob: 10w x 10h (.7" wide x .7" high)
Model:

 

28ct Cashel Linen -

 

Clay:
Cut fabric: 5" wide x 5" high for finishing

Suggested Materials
Gloriana silk #053 "Granny Smith" - greens - 2 yards
Kreinik Mori #2016 - gold dk - 2.5 yards
Kreinik Mori #2063 - orange lt - 2 yards
Kreinik Mori #3017 - red - 3 yards
Kreinik Mori #8000 - white - 2 yards
Needlepoint Inc. #967 - grey brown vy dk - 2 yards
Gloriana silk #066A "Highland Garden Dk" - green, blue, purple - 1 yard
Kreinik Mori #0113 - flesh - 2 yards
Kreinik Mori #2066 - orange med - 4 yards
Kreinik Mori #4216 - olive green dk - 2 yards
Kreinik Mori #6083 - purple dk - 2 yards
Needlepoint Inc. #304 - red brown med - 2 yards
Gloriana silk #112 "Harvest Grape" - orange, green, purple - 2 yards
Kreinik Mori #6106 - purple med - 2 yards
Kreinik Mori #8050 - black - 8 yards
Needlepoint Inc. #473 - yellow - 2 yards
Needlepoint inc. #721 - orange dk - 3 yards
Needlepoint Inc. #974 - grey brown med dk - 1 yard
Kreinik #4 Braid #002 - metallic gold - 14 yards
Mill Hill Petite Bead #40557 - gold - 150
Micro Mini Round button - black - 14
Pumpkin Button - orange - 2
Zweigart 28ct Cashel Linen - Clay
DMC #12 Perle Cotton (thin twist) #310 - black
DMC #12 Perle Cotton (thin twist) #642 - beige grey dk
DMC #8 Perle Cotton (thick twist) #642 - beige grey dk
#24 tapestry needle
#26 tapestry needle
#10 short beading needle
#7 Straw/Milliners needle
Stitches Used:

Cross Stitch
Back Stitch
Lazy Daisy
Partial Diamond Eyelet

Diagonal Arrowhead Stitch
Four-Sided Stitch
Large Cross Stitch
Diamond Eyelet
Cross Stitch over ONE fabric thread
Satin Stitch Triangle
Perspective Stitch
Nun's Stitch
Bullion Knot
French Knot
Colonial Knot
Zig Zag Double Running Stitch
Algerian Eyelet
Smyrna Cross Stitch
Rice Stitch
Montenegrin Stitch
Whipped Chain Stitch
Plait Stitch
Rhodes Stitch
Partial Rhodes Stitch
Upright Cross Stitch
Wide Gobelin Stitch
Queen Stitch
---
PDF Pattern Purchase and Download Instructions
Copyright Reminder: As a quick reminder, all of our PDF patterns are copyright protected and – as with all our patterns – are not permitted to be copied or distributed. We appreciate you sharing links here with your friends rather than sharing the actual PDFs :) Thank you!
Payment & Security
Your payment information is processed securely. We do not store credit card details nor have access to your credit card information.