Roll over image to zoom in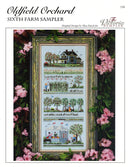 Description
"Love is a Fruit in Season at all times and within reach of every hand." - Mother Theresa  There are so many wonderful small family farms near my home on Vancouver Island. The Oldfield Orchard is my sixth Farm Sampler, and a companion to the Pumpkin Patch Farm, Babe's Honey Farm, Ravenhill Farm, Strawberry Fields Farm and Jingle Bells Christmas Tree Farm. This latest Farm Sampler honours a bountiful orchard located on the Saanich Peninsula near Victoria. I've taken some liberties with the various crops as I know they don't all ripen at once; for instance the apples are usually ripen later in the season and the raspberries, cherries, and peaches and plums all ripen at different times. All the fruit gives the orchard its bountiful feel. At the top of the Oldfield Orchard Sampler you'll find the owners blue house beside the ripening apple grove. The farmer is just picking the raspberries ripe on the vines, beside the bee hive and peach tree. The green apples, and purple plums are also ripe and ready to be picked. Their produce and delicious fruit pies are all displayed in the farm market tent stand, and you can rest in a chair sipping some fruit nectar underneath a cherry tree at the bottom of the sampler. Parts of this design can be stitched separately, and can be used in many different ways. You could also use some of the motifs for a nametag, greeting card, or stitching accessories. Enjoy bringing this delightful farm sampler to life! - Thea
Design area: 72w x 171h (5.1" wide x 12.25" high)
Model: 28ct Cashel Linen - Ice Blue:
Cut fabric: 11" wide x 18" high
Suggested Materials
Gloriana silk #087 "Forest" - greens med dk
Gloriana silk #178 "Mocha" - browns
Kreinik Mori #0103 - flesh lt
Kreinik Mori #1114 - red
Kreinik Mori #4164 - blue green
Kreinik Mori #6116 - mauve
Kreinik Mori #8050 - black
Needlepoint Inc. #0304 - red brown
Needlepoint Inc. #0742 - antique blue lt
Needlepoint Inc. #0771 - yellow
Gloriana silk #096 "Summer Foliage" - greens med lt
Caron Waterlilies #139 "Kelp" - greens/browns
Kreinik Mori #0923 - gold lt
Kreinik Mori #2063 - orange
Kreinik Mori #4216 - olive green dk
Kreinik Mori #7124 - cream
Needlepoint Inc. #0113 - bright blue
Needlepoint Inc. #0694 - gold med
Needlepoint Inc. #0753 - flesh med
Needlepoint Inc. #0923 - antique blue med
SJ Designs petite bead #1882 - red
Mill Hill seed bead #02036 - orange
Mill Hill seed bead #02066 - apple green
Mill Hill seed bead #03026 - wild blueberry
Zweigart 28ct Cashel Linen - Ice Blue 
#24 Tapestry Needle
#10 short beading needle
Stitches used in this Sampler:

Cross Stitch
Back Stitch
Lazy Daisy Stitch
French Knot
Cross Stitch over ONE fabric thread
Elongated Cross Stitch
Modified Smyrna Cross
Satin Stitch heart
Herringbone Stitch
Bargello Wave
Double Running Stitch
Scotch Stitch
Arrowhead Stitch
Modified Double Rice Stitch
---
PDF Pattern Purchase and Download Instructions
Copyright Reminder: As a quick reminder, all of our PDF patterns are copyright protected and – as with all our patterns – are not permitted to be copied or distributed. We appreciate you sharing links here with your friends rather than sharing the actual PDFs :) Thank you!
Payment & Security
Your payment information is processed securely. We do not store credit card details nor have access to your credit card information.