Roll over image to zoom in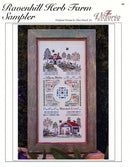 Description
Grow Herbs…Harvest Love.... There are so many wonderful small family farms near my home, and over the years I've wanted to stitch each one of them into a sampler. One of my favorite has always been Ravenhill Herb Farm. It has become the inspiration for this, my first small farm sampler. I've designed it in the same style as my small Victorian Garden Samplers, except wider and larger. The real Ravenhill Farm is only a few miles from my house, and each year I try to visit them to sniff the heady aroma of their bountiful crops, and to buy some of their fresh herbs or enjoy their unique artistic once-a-year Christmas Craft fair. I've taken some liberties with their plant layout, but essentially I think I've managed to capture part of the spirit of the place. A gorgeous English cottage of a house nestling under the tall fir trees, fruit trees, and a barn with several goats, sheep, cats, and other various animals, including Joker the donkey, and a goat called Vincent are all part of the charm. Their herb fields are of course much bigger than I can show on the sampler, but they are stylized into traditional shapes, and are filled with such an array of ravishing plants and blossoms that you can write poems about. As they say, Ravenhill Farm exists in another world. I've included many specialty stitches in the center herb garden, and used a bit of Hardanger as a focal point. In a real herb garden this might be replaced with a fountain or a statue. As my friend Connie suggested, the top part of the sampler, which has the phrase, "There's no place like home..." can also be stitched separately and framed as a small sampler. It would make a perfect housewarming gift, or it could hang comfortably by your own front door. I hope you enjoy stitching this herb sampler for your kitchen, or as a gift for an herb-loving friend!

"There's No Place Like Home…." (separate sampler) A cozy cottage nestling under tall fir trees, an apple tree, and a familiar verse are all part of the charm of this smaller version of Ravenhill. More personal and smaller, this charming little sampler is an ideal house-warming present, wedding present, or just a special gift for a friends. The style fits any decor. Mostly worked in Cross Stitches, with a few different specialty stitches to add variety to the piece, it is easily finished in a short time, and we're sure the friendly crows and fluffy white sheep will really make you smile as you stitch it. Stitch this in your own cosy nest, and you'll know it's true, there really is no place like home! - Thea

Ravenhill Herb Farm Sampler

Design Area: 179h x 72w (12.75 high x 5.1 wide)
Model: 28ct Cashel Linen - Putty 
Cut fabric: 19" X 11" for framing

There's No Place Like Home Short Sampler

Design Area: 67h x 72w (4.8 high x 5.1 wide)
Model: 28ct Cashel Linen -  Putty 
Cut fabric: 11" X 11" for framing
Suggested Materials
Gentle Art Sampler Threads - "Raspberry Parfait" (multi reds
Gentle Art Sampler Threads - "Sable" (multi red brown dk)
Gentle Art Sampler Threads - "Avocado" (multi green lt)
Thread Gatherer Silk 'N Colors #055 - "Camouflage Green" (multi greens dk)
Thread Gatherer Silk 'N Colors #9713 - "Desert Moss" (multi grey greens)
Caron Collection Waterlilies #110 - "Hyacinth" (multi blue mauve)
Au Ver a Soie #2532 - golden yellow
Au Ver a Soie #3846 - grey dk
Access Soie Perlee Creme - cream
Kreinik Mori #0304 - salmon
Kreinik Mori #0902 - pink lt
Kreinik Mori #4077 - green dk
Kreinik Mori #5203 - blue
Kreinik Mori #6104 - mauve
Kreinik Mori #8000 - white
Kreinik Mori #8050 - black
Needlepoint Inc. Silk #0964 - grey med
Needlepoint Inc. Silk #0126 - reddish brown
28ct Cashel Linen - Putty 
DMC Perle Cotton #12 white
#24 Tapestry needle
Stitches used in this Sampler:

Cross Stitch
Cross Stitch over ONE fabric thread
Backstitch
Straight Stitch
Lazy Daisy
French Knot
Scotch Stitch
Hemstitch
Partial Rhodes Stitch
Bound Cross Stitch
Rhodes Star
Whipped Star Flower
Ray Stitch
Plaited Cross Stitch
Diamond Eyelet
Kloster Blocks
Satin Stitch
Algerian Eyelets
Wrapped Bars
Partial Greek Crosses
Smyrna Cross
Wrapped Herringbone
Queen Stitch
Basketweave
Tent Stitch
Plait Stitch
---
PDF Pattern Purchase and Download Instructions
Copyright Reminder: As a quick reminder, all of our PDF patterns are copyright protected and – as with all our patterns – are not permitted to be copied or distributed. We appreciate you sharing links here with your friends rather than sharing the actual PDFs :) Thank you!
Payment & Security
Your payment information is processed securely. We do not store credit card details nor have access to your credit card information.