Roll over image to zoom in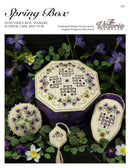 Description
This beautiful purple and yellow Spring Box is the second of four seasonal needlework boxes for you to finish yourself! The lid top is fully embroidered while the sides are finished with bright purple cottons. When the lid is removed, you can see contrasting lining, and enough space for your pinkeep, scissors case and fob! I've used overdyed silk, silk flosses, and sparkling beads. Be prepared for a few new stitches, some easy Hardanger, and enjoy the Cross Stitched areas too. The finishing is easy if you follow Lisa's detailed directions and coloured photos.. enjoy! See how easy Finishing really is! - Thea
Design Area Box Top: 80w x 80h (5.7" wide x 5.7" high)
Model: 28ct Cashel Linen - Light Sand:
Cut fabric: 8"w x 8"h for finishing
Design Area PinKeep: 40w x 40h (2.85" wide x 2.85" high)
Model: 28ct Cashel Linen - Light Sand:
Cut fabric: 5" wide x 5" high for finishing
Design Area Scissors Keep: 34w x 55h (2.4" wide x 3.9" high)
Model: 28ct Cashel Linen - Light Sand:
Cut fabric: 5" wide x 6" high for finishing
Design Area Scissors Fob: 13w x 13h (.9" wide x .9" high)
Model: 28ct Cashel Linen - Light Sand:
Cut fabric: 3" wide x 3" high for finishing
Materials Required
Kreinik Mori #2016 - gold dk
Kreinik Mori #6106 - purple med
Kreinik Mori #8050 - black
Needlepoint Inc. #0473 - gold lt
Gloriana silk #066A "Highland Garden dk" - multi
Kreinik Mori #6083 - purple dk
Kreinik Mori #6104 - purple lt
Kreinik Mori #7124 - cream
Needlepoint Inc. #0694 - gold med
Needlepoint Inc. #0292 - green dk
SJ Designs 2mm pearl beads - ivory
Button - purple
Button - green
Additional Materials Required
Zweigart 28ct Cashel Linen - Light Sand
1 ball - DMC #12 Perle Cotton (thin twist) #712 - cream
1 ball - DMC #8 Perle Cotton (thick twist) #712 - cream
#24 tapestry needle
#10 short beading needle
Suggested Materials for Finishing

Stitched Designs
1 ball - DMC #12 Perle Cotton #712 - cream
1 spool - Cotton sewing thread (colour to match box fabric)
1/4 yd - Box fabric (cotton - compliment linen)
1/4 yd - Lining fabric (cotton - compliment linen and box fabric)
1/8 yd - Iron-on Interfacing Medium weight
1/4 yd - Iron-on Fleece Pellon
1/4 yd - Fleece Pellon or Thin Cotton Quilters Batting
1/8 yd - Wool Batting
1/4 yd - High Loft Polyester Quilt Batting
3/8" wide Ribbon for Pinkeep
4 ply Mat Board & 2 ply Mat Board (Acid Free)
Straight Pins (quilters pins and silk pins)
Freezer Paper
Aileen's Tacky Glue & LePage White Glue
Sharp Paper scissors
Rotary cutter, clear plastic ruler and cutting mat
Iron
Very Sharp material scissors to snip ends and cut fabric
Sewing Needle
Stitches used in the Spring Box and Accessories:
Kloster Blocks

Modified Kloster Blocks
Algerian Eyelets
Woven Bars
Divided Wrapped Bars with Doves Eyes
Partial Greek Cross
Cross Stitch
Back Stitch
Lazy Daisy Stitch
Rhodes Swirl
Bead Work
---
PDF Pattern Purchase and Download Instructions
Copyright Reminder: As a quick reminder, all of our PDF patterns are copyright protected and – as with all our patterns – are not permitted to be copied or distributed. We appreciate you sharing links with your friends rather than sharing the actual PDFs :) Thank you!
Payment & Security
Your payment information is processed securely. We do not store credit card details nor have access to your credit card information.