Roll over image to zoom in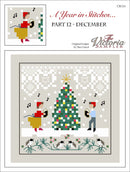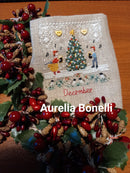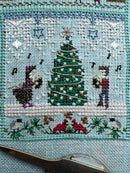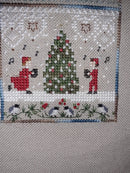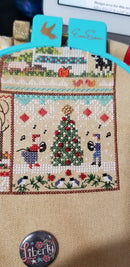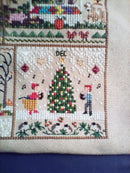 Description
The "Year In Stitches" series ends with December. Each month's design can be stitched on its own as a Christmas Ornament or framed piece OR it can be part of a larger sampler.  When you stitch a Creative Pattern you get to choose your own threads, beads, linen and other charms and materials to stitch it. I first started making Creative Designs as stitch-alongs for our Facebook Chat Group a few years ago. Everyone had so much fun sharing their versions, and we've had many people ask for them afterwards. Thank you!
Some of our FB Stitchers chose their own colours, and created these beautiful December Models and posted photos in our VS Chat group on FB:  Aurelia Bonelli, Ayano Murakami, Barbara Lutomirska, Beth Schoone-Jongen, Cheyenne Vaugh-Goodwin, Elias Sardou, Erin Paulson, Joanna Fuson, Lesley Ayris, Lynn Burton, Mary Widrowicz, Roz Walters, Sandy Werbitsky, Suzanne Healy!
All of my Creative Designs are meant as a creativity exercises for our website visitors. Now you have a way to use up those pesky leftover threads, beads, and other materials. Choose your own colours, using my coloured chart as an inspiration, but feel comfortable using totally different colours if you want to! You can get some leftover linen, and a palette of threads ready, and then either use them, or change them entirely as you see the pattern emerging on your fabric. It's a fun time for all and the fun is in the creativity. Come visit us at our FB Victoria Sampler Chat Group and share your progress photos there! -Thea
Payment & Security
Your payment information is processed securely. We do not store credit card details nor have access to your credit card information.