Roll over image to zoom in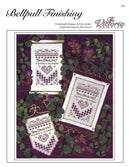 Description
Have you ever wanted to know the secrets of Beautiful Finishing? Learn Victoria Sampler's special bellpull finishing secrets using Thea's "Stitching is my Passion" design! 1. Our first model is shown at upper left of cover photo. You can use this method for any design, no matter how big or small it is. Just be sure to adjust the measurements of the fabric and choose proportionately sized double bellpull hardware. The Fold Over method is simple and elegant, flexible yet firm, and hides the back of your stitching under your choice of backing fabric while adding that extra touch of perfection to your precious stitching. 2. The second method of finishing bellpulls is with "Hemstitching". Perhaps this method is a bit more complicated, but if you carefully follow Lisa's easy directions, you too can create an Heirloom like the model shown on the front cover at right. The withdrawing and re-weaving of the fabric threads takes a bit of care, but as soon as you've done this, the rest follows naturally. Use the step by step photos on the following pages, and see how Lisa shows you the easiest way! 3. The third method to finish bellpulls is with a simple edging stitch called the "Blanket Stitch". It is shown on the front cover at the lower left. The Main Chart and the diagrams will help you with placement of the Blanket Stitches. Any bellpull can be finished this way, but it particularly lends itself to bellpulls that already include Hardanger as part of the design. All you do is edge around the outside with the Blanket Stitches, cut away the excess fabric, and attach the flap to a bellpull hardware as shown. Finishing has never been so easy!! The lovely "Stitching is My Passion" design is one that lends itself to the three different methods of finishing, and you can choose which chart to follow according to the method of finishing you want to use. 
Design Area: 40w x 71h (3.85" wide x 5" high)
Model: 28ct Quaker Cloth OR Cashel Linen - Antique White:
Cut fabric: 8" X 12" for all three finishing methods)
Suggested Materials

DMC #8 Perle Cotton #3743 - antique mauve (thick twist)
Kreinik #4 Braid #002 gold
Kreinik Mori #4206 green dk
Kreinik Mori #4204 green med
Kreinik Mori #6126 antique mauve dk
Kreinik Mori #6124 antique mauve med
Kreinik Mori #6123 antique mauve lt
Kreinik Mori #8000 white
Thread Gatherer SNC #091 Medieval Mulberry
SJ Designs 2.5mm pearl beads lilac
Access Cape Amethyst Hearts
1/8" Offray white ribbon
#24 tapestry needle
#10 short beading needle
Extra Materials Suggested to finish all three Models:
Cotton sewing thread - light contrasting colour
Cotton sewing thread - matching colour to stitched design
Contrasting fabric (cotton - solid colour for under cut areas)
Backing fabric (cotton - colour to match linen)
Lightweight Iron-on Interfacing
Lightweight Fusible Pellon
Roller blade, ruler and cutting mat
Sewing Needle
sharp embroidery scissors
Bellpull Hardware to fit
Stitches used in the "Stitching is my Passion" Sampler:
Kloster Blocks
Blanket Stitches
Woven Bars
Partial Dove's Eyes
Large Cross
Lazy Daisies
Upright Cross
Hemstitching
Diagonal Four-sided Stitch
Backstitch
Star Stitch
Cross Stitch
Cross Stitch over ONE fabric thread
Queen Stitches
Bowtie Variation
---
PDF Pattern Purchase and Download Instructions
Copyright Reminder: As a quick reminder, all of our PDF patterns are copyright protected and – as with all our patterns – are not permitted to be copied or distributed. We appreciate you sharing links with your friends rather than sharing the actual PDFs :) Thank you!
Payment & Security
Your payment information is processed securely. We do not store credit card details nor have access to your credit card information.