Roll over image to zoom in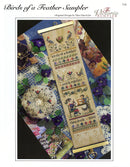 Description
"Birds of a Feather Stitch Together..." Whenever we sit down to stitch with others we seem to find instant friendships. As stitchers, we regularly flock together at various retreats, classes, or at each other's homes, and many of us have found such wonderful deep friendships through this delightful pastime. I designed this antique-style sampler as an expression of my gratitude for all the friends with whom I've stitched, in appreciation of the great times and shared meals and laughter. When you stitch this sampler and give it to one of your stitching sisters or hang it in your home, you've become my stitching friend too! The colours of this sampler are based on some marvelous overdyed silk threads. I have also designed a matching Biscornu which we've finished with special buttons! Stitch this meaningful and lovely "Birds of a Feather" Sampler, personalize it and share with your special stitching friends as a remembrance of your fun times together! -Thea
Sampler
Design area: 153h x 36w (10.9" high x 2.6" wide)
Model: 28ct Cashel Linen - Country Mocha or Platinum
Cut fabric: 17" high x 9" wide for framing OR 19" h x 7" w for bellpull finishing
Biscornu
Design Area: 48h x 48w (3.4" high x 3.4" wide)
Model: 28ct Cashel Linen - Country Mocha or Platinum
Cut 2 pieces of fabric: 7" high x 7" wide for biscornu finishing 
Suggested Materials
Caron Waterlilies #168 "Rainforest" - blue, green, salmon
Dinky Dyes #135 "Dandenong" - greens lt
Kreinik Mori #0634 - purple
Kreinik Mori #7124 - cream
Kreinik #4 Braid #002 - metallic gold
Access Au ver a Soie #3843 - grey
Access Au ver a Soie #2516 - golden tan
Dinky Dyes #092 "Eungella" - greens dk
Kreinik Mori #3063 - salmon
Kreinik Mori #8050 - black
Needlepoint Inc. #0121 - tan
Needlepoint Inc. #0322 - blue
Needlepoint Inc. #0974 - brown
Mill Hill petite beads #40557 - gold
Mill Hill seed beads #00557 - gold
SJ Designs petite beads #18114 - bronze iris
Heart charm - gold
Heirloom flower button with five petals
Zweigart 28ct Cashel Linen - Platinum or Country Mocha
#24 tapestry needle
#10 short beading needle
Stitches used in this Sampler:
Cross Stitch
Backstitch
Herringbone Stitch
Cross Stitch over ONE fabric thread
Beadwork
Lazy Daisy
Triple Rice Stitch
Fan Stitch 

Satin Stitch heart
Queen Stitch
Arrowhead Stitch
Satin Stitch Triangles
Plait Stitch
Smyrna Cross Stitch
Modified Double Rice Stitch
---
PDF Pattern Purchase and Download Instructions
Copyright Reminder: As a quick reminder, all of our PDF patterns are copyright protected and – as with all our patterns – are not permitted to be copied or distributed. We appreciate you sharing links here with your friends rather than sharing the actual PDFs :) Thank you!
Payment & Security
Your payment information is processed securely. We do not store credit card details nor have access to your credit card information.