Roll over image to zoom in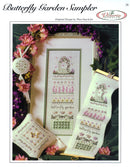 Description
Stitched with all silk threads, on antique white linen, this sampler was a joy to stitch from start to finish! I loved the soft green colour of the little green Gazebo, where you can sit and rest under the canopy of tumbling vines and you are hidden for butterfly watching! It has old fashioned roses climbing over the roof and is surrounded by herbs and flowers. I just know that if I had one, I'd like it to look just like that! I spent some time reading about the spirit of attracting butterflies, and enjoyed finding out which plants are known to encourage butterflies to come to feed often. My friend Cathy has planted bushes and plants in their garden, and the sight of them dancing around their garden this summer was just beautiful to behold! So when I designed the garden beyond, I also included more dancing multicoloured butterflies, and planted it with plants butterflies love! The Black-Eyed Susans, Butterfly Bush, Lavender, Purple Coneflowers, and of course, delphiniums and more butterflies.... The Rhodes Butterfly band gave me a good feeling, as I always love to work the Rhodes stitch! A wee Hardanger gate sits at the bottom of the sampler, and when I had finished weaving two little butterflies in the gate, it looked just right! A delectable choice of textures and techniques for the experienced stitcher, this Learning Sampler is also ideal for the beginning specialty stitcher. Have fun stitching your own Butterfly Garden!
SAMPLER:
Design area:
 30w x 113h (2.1" w x 8.1" h)
Model:
28ct Antique White Cashel Linen 
(
Cut fabric:
8" w x 14" h)
BUTTERFLY PINCUSHION:
Design area:
40w x 40h (2.8" w x 2.8" h)
Model:
28ct Ant. White Cashel Linen 
(
Cut fabric:
5" x 5")
Suggested Materials

Thread Gatherer - "Butterfly Garden" Silk 'N Colors
Access Trebizond TRA 741 - Bayberry light
Access Soie 100 - 3 - blanc
DMC #12 - #504 blue-green light
Kreinik #4 Braid #041 - multicoloured metallic
Kreinik Mori #4077 - green very dark
Kreinik Mori #4166 - green med dark
Kreinik Mori #4164 - green med light
Kreinik Mori Milkpaint #0414 - green light
Access Au Ver a Soie #1343 - purple
Kreinik Mori #6114 - pink medium
Kreinik Mori #6112 - pink light
Kreinik Mori Milkpaint #724 - gold
Kreinik Mori Milkpaint #524 - sky blue

28ct Cashel Linen - Antique White

Bell pull Hardware (optional)
butterfly charm(s)
Stitches used in this Sampler:
Cross Stitch
Backstitch
Lazy Daisy
Pins
Satin Stitch
Pulled Bricking
Hemstitch
Rhodes Butterfly Stitch
Four Sided Stitch
Kloster Blocks
Modified Kloster Blocks
Wrapped Bars
Algerian Eye Stitch
Partial Greek Weaving
Smyrna Cross Stitch
Gobelin Stitches
Couching
---
PDF Pattern Purchase and Download Instructions
Copyright Reminder: As a quick reminder, all of our PDF patterns are copyright protected and – as with all our patterns – are not permitted to be copied or distributed. We appreciate you sharing links here with your friends rather than sharing the actual PDFs :) Thank you!
Payment & Security
Your payment information is processed securely. We do not store credit card details nor have access to your credit card information.