Roll over image to zoom in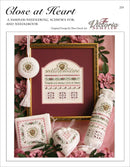 Description
A Sampler or Needleroll, Scissors Fob, and Needlebook... During Victorian times, ladies would often make stitched items, or buy small tokens of affection for their friends. These "Friendship Tokens" were usually exquisite little needlework accessories, like pincushions, scissor keeps, needlebooks or small painted items. This lovely set of four co-ordinating needlework accessories is an elegant addition to any collection. The brass rose heart charms, soft overdyed silk flosses, pearls, and precious heart shaped beads, enhance the Victorian elegance of each item. The sampler can be framed or finished as a charming needleroll, as shown on the front cover. The needlebook is full of surprises! Open it, and you will find a lovely blanket stitch Hardanger flower in the center of the next design. Open it fully, and there's a place for all your needles and the words "Stitching Friends are Close at Heart"! Turn it over, and on the back is a place to add a personalization! Give these Friendship Tokens to your stitching friends, or add them to your own collection.. with love,  - Thea
Sampler/Needleroll Design area: 67h x 60w (4.75" high x 4.25" wide)
Model: 28ct Quaker Cloth - Antique White 
Cut fabric: 11" high x 10" wide for framing, OR 11" h  X 7" w for needleroll 
Needlebook Design area: 46h x 166w (3.25" high x 11.85" wide)
Model: 28ct Quaker Cloth - Antique White 
Cut 2 pieces of fabric: 8" high x 16" wide
Scissors Fob Design area: 24h x 24w (1.75" high x 1.75" wide)
Model: 28ct Quaker Cloth - Antique White 
Cut fabric: 5" high x 5" wide
Suggested Materials

Kreinik #4 Braid #002 gold
Kreinik Mori #4206 green dk
Kreinik Mori #4204 green med
Kreinik Mori #1205 antique rose dk
Kreinik Mori #0115 antique rose med
Kreinik Mori #0602 antique rose lt
Kreinik Mori #8000 white
DMC #8 Perle Cotton #778 antique rose
Caron Waterlilies #149 Cherry Cordial
SJ Designs 2.5mm pearl beads pale pink
Access Rose Quartz Hearts OR Mother of Pearl Hearts
Brass Charms - Heart with Rose x 3
Zweigart 28ct Quaker Cloth - Antique White
DMC #8 Perle Cotton (thick twist) - white
DMC #12 Perle Cotton (thin twist) - white
#24 or #26 Tapestry needle

#10 short beading needle
Stitches Used in this Design:
Back Stitch
French Knot
Lazy Daisy
Smyrna Crosses
Queen Stitch
Algerian Eyelet
Scotch Stitch
Zig Zag Satin stitch
Diagonal Queen Stitch
Satin Stitch

Blanket Stitch
Satin Stitch Hearts
Diamond Eyelets
Blanket Stitch Flower filling stitch
Diagonal Wrapped Spokes
Woven Spider Web
---
PDF Pattern Purchase and Download Instructions
Copyright Reminder: As a quick reminder, all of our PDF patterns are copyright protected and – as with all our patterns – are not permitted to be copied or distributed. We appreciate you sharing links with your friends rather than sharing the actual PDFs :) Thank you!
Payment & Security
Your payment information is processed securely. We do not store credit card details nor have access to your credit card information.