Roll over image to zoom in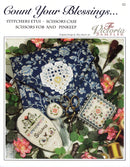 Description
"Count your life by smiles not tears...  Count your age by friends not years..."
Includes a beautiful and useful Stitcher's Etui, a Pinkeep, Scissors Case and Fob. This luscious set of "Smalls" is so beautiful, dainty and elegant! The main Etui is constructed from a very long length of linen which is folded several times to create two pockets. We bound our model with gorgeous blue and taupe quilt fabric. Inside you'll find an elegant pincushion tufted with beads, and a verse of gratitude enhanced by colouful flowers and fancy stitches. The matching Pinkeep, Scissors Case and Fob will fit neatly in the pockets, along with your flosses, scissors, needles and pins. The floral vines climb all over the inside of the Etui and amidst the vines are flowers made of various different specialty stitches, lots of fun to learn as you work through the pattern. There are Buillion knots, Lazy Daisies, Eyelets galore! I've also bordered an optional Hardanger Heart with Blanket Stitches so you can cut it out easily. We then appliqued the Heart to the front flap of the Etui. This special touch adds to the beauty of the piece when the Etui is closed. The fabric used was found in a local quilt shop, and we're sure you'll find something equally beautiful that will suit your taste. With all the various colours in this design, you have many matching fabric colours to choose from. You will be proud to use this elegant set at your next guild meeting or stitcher's gathering! Have fun stitching! :) - Thea
Suggested cut of linen for all pieces: 9"w x 63"h
Etui
Design Area Etui: 82w x 566h chart squares (164 w x 1132 h - fabric threads) (5.85" w x 40.4" h)
Model: 28ct Cashel Linen - Platinum:
Cut fabric: 9" wide x 45" high for etui finishing 
Hardanger Heart Applique
Design Area: 38w x 38h (2.7" wide x 2.7" high)
Model: 28ct Cashel Linen - Platinum:
Cut fabric: 4.5" wide x 4.5" high for finishing
Scissors Fob
Design Area: 12w x 12h (.85" wide x .85" high)
Model: 28ct Cashel Linen - Platinum:
Cut fabric: 4.5" wide x 4.5" high for finishing
Scissors Case
Design Area: 34w x 59h (2.4" wide x 4.2" high)
Model: 28ct Cashel Linen - Platinum:
Cut fabric: 4.5 " wide x 6.5" high for scissor case front
Pinkeep
Design Area: 32w x 32h (2.3" wide x 2.3" high)
Model: 28ct Cashel Linen - Platinum:
Cut fabric: 4.5" wide x 4.5" high for finishing 
Suggested Materials

Access Soie Perlee #creme - cream (1 16m spool)
Gloriana silk #045 "Lacquered Gold" - golds
Gloriana silk #178 "Mocha" - olive browns
Kreinik #4 Braid #002 - metallic gold
Kreinik Mori #0304 - peach med
Kreinik Mori #4216 - olive green dk
Kreinik Mori #6126 - purple
Needlepoint Inc. #0126 - brick red dk
Needlepoint Inc. #0322 - blue
Gloriana silk #116 "Olive Grove" - greens
Gloriana silk #148 "May Flowers" - multi
Kreinik #4 Braid #032 - metallic white
Kreinik Mori #0103 - flesh lt
Kreinik Mori #0325 - salmon dk
Kreinik Mori #7024 - tan
Needlepoint Inc. #0561 - blue lt
Needlepoint Inc. #0991B - white
Mill Hill seed bead #02024 - rose
Mill Hill seed bead #02015 - blue
SJ Designs petite bead #1805 - white
SJ Designs petite bead #1817 - cranberry
SJ Designs 2mm pearl beads - gold
Star Sequins - gold
Lacy Heart Charm - gold
Zweigart - 28ct Cashel Linen - Platinum (suggested cut size for all: 9"w x 63"h)
DMC #12 Perle Cotton (thin twist) - white
#24 tapestry needle
#10 short beading needle
Stitches used in this Sampler:
Cross Stitch
Back Stitch
Lazy Daisy Stitch
Straight Stitch
Diamond Eyelet
Bullion Knot
Double Cross Stitch
Single Cross Eyelet
Algerian Eyelet
Satin Stitch Triangles
Ray Stitch
Tied Cross Stitch
French Knot
Herringbone Stitch
Bargello Grass
Cross Stitch over ONE fabric thread
Blanket Stitch Pinwheel
Rhodes Hearts
Partial Diamond Eyelet
Smyrna Cross
Satin Stitch Heart
Rhodes Butterfly
Star Stitch
Sheaf Stitch
Long Arm Cross
Modified Broad Cross
Bargello Wave
Partial Rhodes Stitch
Plait Stitch
Kloster Blocks
Blanket Stitch
Woven Bars
Dove's Eye
---
PDF Pattern Purchase and Download Instructions
Copyright Reminder: As a quick reminder, all of our PDF patterns are copyright protected and – as with all our patterns – are not permitted to be copied or distributed. We appreciate you sharing links here with your friends rather than sharing the actual PDFs :) Thank you!
Payment & Security
Your payment information is processed securely. We do not store credit card details nor have access to your credit card information.