Roll over image to zoom in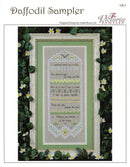 Description
I wandered lonely as a cloud, that floats on high o'er vales and hills, When all at once I saw a crowd, a host, of golden daffodils; Beside the lake, beneath the trees, Fluttering and dancing in the breeze... ~ by William Wordsworth, England 1804
The daffodil poem captured my heart years ago, and I often feel like dancing with these daffodils in Spring. I designed this delicate sampler to celebrate these beautiful golden flowers and to capture the feelings of new growth and new beginnings they herald. At the top are a few specialty stitches surrounded with lovely cutwork Hardanger. Below are several lovely bands of lacy stitches, each special in its own way, using soft greens and yellows. The Bargello band shines with these same hues. At the bottom of the sampler, you can see a band of Hardanger with beautiful woven patterns, and a band of flowers, as well as a center woven Hardanger medallion. Just beautiful! Among these specialty bands, you'll find Kloster Blocks, Algerian Eyelet, Backstitching, Lazy Daisies, Daffodil Stitch, Rice Stitches, Dove's Eyelet, Square Filet, Satin Stitches, Arrowhead Stitches, Braided Cross Stitch, Long Arm Cross Stitch, Cross Stitch, Upright Mosaic Stitches, Smyrna Rice Stitches, Bargello, Rhodes Butterflies, Diamond Eyelets. These stitches are a wonderful challenge, but not too difficult for most stitchers. Enjoy stitching this sampler so you will also enjoy dancing with your daffodils in spring! - Linda
Design Areas:
78w x 218h (5.6" wide x 15.6" high)
Model:
28ct Cashel Linen, 'Summer Khaki' 
Cut fabric:
12"wide X 22"high for framing
Suggested Materials
Gloriana silk #004 "Narcissus" - yellows
Gloriana silk #066 "Highland Garden" - multi
Gloriana silk #120 "Green Gables" - greens lt
DMC Floss #3347 - yellow green med
DMC Floss #727 - yellow med
DMC #8 Perle Cotton - white
DMC #12 Perle Cotton - white
Needlepoint Inc. #0973 - grey brown dk
Kreinik Mori #7024 - taupe

Kreinik Mori #2032 - yellow lt
Kreinik #4 Braid #102 - vatican gold
Needlepoint Inc. #0356 - green dk

Needlepoint Inc. #0991B - white
Mill Hill petite beads #40557 - gold
Mill Hill seed beads #62041 - yellow
28ct Cashel Linen, 'Summer Khaki' 
#24 Tapestry Needle
#10 Beading Needle                                     
---
PDF Pattern Purchase and Download Instructions
Copyright Reminder: As a quick reminder, all of our PDF patterns are copyright protected and – as with all our patterns – are not permitted to be copied or distributed. We appreciate you sharing links here with your friends rather than sharing the actual PDFs :) Thank you!
Payment & Security
Your payment information is processed securely. We do not store credit card details nor have access to your credit card information.