Roll over image to zoom in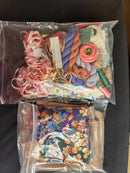 Description
Description
Get your extra Large Grab Bags while you can! Each bag is different, so it's a surprise every time!  We've cleared out our inventory, and we had so much left over that there's even more stash in each bag! Such a great deal! Use these to augment your current items, and get creative! Practice or experiment using our 'creative patterns' and 'mini-patterns'!  - Thea

Grab Bags may include these or more: 
A Pack of different Threads - Overdyed or plain Silk and Cotton Flosses
Silk Ribbons - LOTS of various colours and sizes
Spools Silk and Metallic threads, braids, Cords, Blending filaments etc.
Linen Packs - large cut pieces - various colours
Full skeins of Caron Collection fibers. 
Fabrics for finishing
Perle Cottons - different colours and sizes
Needles 
Buttons - specialty buttons in separate pack
Sequins in various colours, shapes and sizes
Beads - (seed beads and petites) various colours
Charms - Brass and silver colours, other metals. 
Payment & Security
Your payment information is processed securely. We do not store credit card details nor have access to your credit card information.