Roll over image to zoom in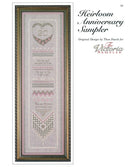 Description
The Second in the Heirloom series. Long and elegant, this sampler can hang on any wall and still look beautiful.. I've used antique colours and tones so that the overall effect is classic and timeless. Mauve, rose, taupe, and ivory silks on a platinum linen, with silver/gold metallic touches, and the sparkle of hundreds of ivory, old rose, and violet beads combine to create a rich memory of years of love. The verse, "Take my hand and walk with me, The best in life is yet to be.." is slightly changed from the original, but keeps the spirit of true love and commitment. At the back of the leaflet is the original design, stitched on ecru linen, with slightly different colours for the silk ribbon heart, and bullion knots for the roses.. The Hardanger frame for the square sampler can be lengthened to fit around the long sampler if you wish! Suitable for anniversaries, weddings, graduations, or birthdays, you can change the colours of the fibers or the fabric, and the wording, to stitch this sampler for the celebrations of the special people in your life! I hope you enjoy stitching this heirloom!
Design area:
270h x 62w (19 1/2" long x 4 3/4" wide)
Model:
28ct Platinum Cashel
(
Cut fabric:
26" X 11" for framing)
On the front cover photo, we've shown the long version of the Heirloom Anniversary Sampler. On the back cover, you'll see the square version. You may wish to use the Hardanger Frame from the smaller piece, extend it, and stitch it around the long version for added impact! However, you will have to make sure you have enough fabric to do this! You will need to add another 3" to each side of the long sampler.
Suggested Materials

Weeks #2284 "Madison Rose" (sub for GAST "Highland Heather") 
Access Au ver a Soie #3043 - rose
Access Au ver a Soie #3412 - light taupe
Needlepoint Inc. #974 -

dark taupe (sub for 

Au ver a Soie – #3443) 
Needlepoint Inc. #985 - med taupe (sub for Au ver a Soie – #3341) 
TW 3.5mm silk ribbon #025 "Platinum" (sub for YLI 4mm ribbon #162) 
TW 3.5mm silk ribbon #047 "Cherry Blossom" (sub for YLI 4mm ribbon #160)
TW 3.5mm silk ribbon #029 "Tundra" (sub for YLI 4mm ribbon #164) 
Kreinik 102HL #8 Braid metallic "Vatican Gold high lustre"
Kreinik 102 #4 Braid metallic "Vatican Gold"
Mill Hill Antique Glass Beads #3005 - copper
Mill Hill Antique Glass Beads #3021 - creme
Mill Hill Antique Glass Beads #3044 – mauve
Access Mother of Pearl Heart beads 
Access

Mother of Pearl Heart beads (sub for 

Rose Quartz Heart beads)
Access Mother of Pearl Rice Bead 
4 spools Trebizond TRA132 ecru - Access
DMC #3033 floss platinum
DMC #12 Pearl Cotton #712 creme
28ct Cashel Linen - Platinum
#24 tapestry needle
#10 short beading needle
Stitches used in this Sampler:

Cross Stitch
Backstitch
Beadwork
Silk Ribbon Spider Web Rose
Stem Stitch
Japanese Ribbon Stitch
Pulled Three Sided Stitch
Large Single Cross Stitch
Satin Stitch
Scotch Stitch
Hemstitching with Three Sided Stitch and Wrapped Threads
Smyrna Crosses
Four Sided Stitch
Wrapped Herringbone Stitch
Queen Stitch
Herringbone Stitch
Partial Rhodes Stitch
Hemstitching with Four Sided Stitch
Sheaf Stitch
Bargello
Rhodes Heart
Kloster Block
Woven Bars
Divided Wrapped Bars
Doves Eyes
Partial Greek Cross
Partial Diamond Eyelets
Algerian Eye Stitch
Bullion Knot
---
PDF Pattern Purchase and Download Instructions
Copyright Reminder: As a quick reminder, all of our PDF patterns are copyright protected and – as with all our patterns – are not permitted to be copied or distributed. We appreciate you sharing links here with your friends rather than sharing the actual PDFs :) Thank you!
Payment & Security
Your payment information is processed securely. We do not store credit card details nor have access to your credit card information.