Roll over image to zoom in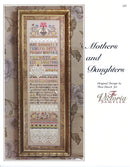 Description
"A special bond that spans the years Through laughter, worry, smiles and tears, A sense of trust that can't be broken A depth of love at times unspoken, A lifelong friendship built on sharing, Hugs and kisses, warmth and caring..."

An antique looking Mother - Daughter Sampler makes a wonderful birthday or other family occasion gift. Elegant and timeless, yet perfect for modern decor, this is a celebration sampler that both mothers and daughters will want to display in their home with joy. Love between mothers and daughters is the inspiration for this sampler, but the verse is appropriate for parents and children or mothers and sons, or fathers and sons, so I've included a more general alphabet section to replace the section pictured on the model. Just replace that section and this sampler is appropriate for paretns, mothers or grandparents and sons daughters or children, or anyone with whom you have had a long friendship. In this sampler you find bands of specialty stitches, some flowers, and snowy white Hardanger lace. At the top you'll stitch a carnation in a basket, a symbol of love. Below is a panel of lace, and then the capital letters of an alphabet. Some delicate specialty stitches and a lovely Hardanger heart, symbolic of the love for one another. At bottom is a special panel of Hardanger lace. This has been a labour of love to honour my two daughters, so I hope you'll love it as much as I do! Personalize as you wish, with the smaller alphabet. Stitch this beautiful sampler for a very special mother or child, a new baby, a good friend, a birthday present, or just for you, to honour your own mother! - Thea
Design area: 285h x 64w (20.35" high x 4.6" wide)
Model: 28ct Cashel Linen - Raw Linen:
Cut fabric: 27" high x 11" wide for framing
Suggested Materials

Gloriana silk #178 "Mocha" - grey browns
Caron Waterlilies #138 "Winter Wheat" - multi
Dinky Dyes #113 "Cobar" - gold
Kreinik Mori #4212 - green lt
Needlepoint Inc. #612 - antique blue lt
Needlepoint Inc. #674 - antique blue dk
Needlepoint Inc. #711A - rose med
Dinky Dyes #65 "Charcoal" - greys vy dk
Kreinik #4 Braid #071 metallic - copper
Kreinik Mori #4214 - green med
Kreinik Mori #7124 - cream
Needlepoint Inc. #673 - antique blue med
Needlepoint Inc. #755 - rose dk
Needlepoint Inc. #766 - copper dk
Mill Hill petite bead #42024 - heather mauve
Mill Hill seed bead #03005 - platinum rose
Mill Hill seed bead #03045 - metallic lilac
SJ Designs seed bead #11462E - olive plated rainbow
SJ Designs 2mm pearl bead - ivory
SJ Designs 3.4mm drop bead #58 - gold
Zweigart 28ct Cashel Linen - Raw Linen 
DMC #12 Perle Cotton - white (thin twist)
Access Soie Perlee - cream (thick twist)
#24 Tapestry Needle
#10 short beading needle
Stitches used in this Sampler:
Cross Stitch
Cross Stitch over ONE fabric thread
Satin Stitch

Algerian Eyelet
Satin Stitch Hearts
Upright Cross Stitch
Herringbone Stitch
Back Stitch
Satin Stitch Triangles
Smyrna Cross Stitch
Triple Eyelet
Modified Ermine Stitch
Lazy Daisy 
Arrowhead Stitch
Kloster Blocks
Partial Greek Cross
Woven Bars with Doves Eyes
Divided Wrapped Bars with Doves Eyes
Diagonal Queen Stitch
Diamond Eyelets
Triple Cross
Rhodes Heart
---
PDF Pattern Purchase and Download Instructions
Copyright Reminder: As a quick reminder, all of our PDF patterns are copyright protected and – as with all our patterns – are not permitted to be copied or distributed. We appreciate you sharing links with your friends rather than sharing the actual PDFs :) Thank you!
Payment & Security
Your payment information is processed securely. We do not store credit card details nor have access to your credit card information.