Roll over image to zoom in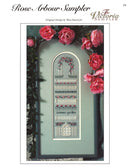 Description
Part of the Victorian Garden Sampler A small white Hardanger gate set into a white picket fence, leads your eye into this cool and peaceful Summer Garden. As you stitch this Victorian band sampler on soft green linen, you'll find cross stitched silk flower beds separated by bands of white hemstitching and other easy-to-do whitework. There are greenwork hearts, bargello grass, and white pearl beads to add to the romance of the stitching. At the very top of the garden is a white arched trellis smothered with silk English Tea Roses, a cool fragrant and shaded sanctuary where you could sit quietly to read or stitch! This little garden sampler can hang in your house to remind you of summer all year around!
Design area: 114h x 30w (8" high x 3 1/4" wide)
Model: 28ct Blue Sapphire Linen (Cut fabric: 14" h X 9" w for framing.)
Correction!
The symbols in the materials box on the inside front cover of Rose Arbour leaflet have been printed out of order. We have labels with the correct information, to cover up the areas. Please check the Symbols and Materials section.. and see if there is a label on it. If there isn't, please check back with your LNS so they can give you or send you the appropriate label. We have corrected all the other leaflets in our warehouse, so most people will not be affected.. but we certainly apologize for any inconvenience.  

Suggested Materials: 

Au Ver a Soie - blanc
Au Ver a Soie 1041 med. rose
Au Ver a Soie 3014 dk. rose
Au Ver a Soie 5022 lt. green
Au Ver a Soie 5023 med. green
Au Ver a Soie 5024 dk. green
Mill Hill Glass Bead #00479 white
DMC #12 Perle Cotton - white
DMC #8 Perle Cotton - white

#24 tapestry needle
#10 short beading needle
Stitches used in this Sampler:
Cross Stitch
Backstitch
Beadwork
Half Cross Stitch
Satin Stitch
Alternate Hemstitching
Herringbone Stitch
Diamond Eye Stitch
Four Sided Stitch
Holbein Stitch
Smyrna Cross Stitch
Interlaced Hemstitch
Eyelet Stitch
Hemstitch with Four Sided Stitch
Kloster Block
Woven Bars

Doves Eyes
---
PDF Pattern Purchase and Download Instructions
Copyright Reminder: As a quick reminder, all of our PDF patterns are copyright protected and – as with all our patterns – are not permitted to be copied or distributed. We appreciate you sharing links here with your friends rather than sharing the actual PDFs :) Thank you!
Payment & Security
Your payment information is processed securely. We do not store credit card details nor have access to your credit card information.